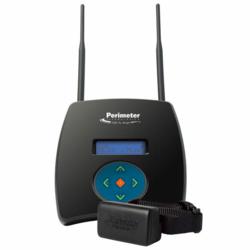 It's not just "Wireless", it's "Wi-Fi"
Annandale,New Jersey (PRWEB) February 26, 2013
The Perimeter Technologies Wire-Free Wifi Dog Fence system is the only one of its kind on the market. It uses the latest digitally encoded Wi-Fi signal technology used in advanced wireless communications. Unlike dated fencing technology, the Wire-Free Smart Station and Pet Link collar are both connected by Transceivers - highly integrated signal chips that constantly link the distance between the dog and the Smart Station. Wire-Free Pet Fence intelligently tracks the location of a dog at all times, reminding it to respect the established boundary safe area, all while communicating critical safety information back to the owner.
It's not just wireless, It's Wi-Fi. With certain types of past Wireless Dog Fence systems, there was the burden of laying out the perimeter of the fence and the hassles of burying the wire border. Users of that type of system know what it is like for the wire to break in the occasional gardening accident. The WIFI Dog Fence System eliminates any use of a border wire and has a range of 2 1/2 acres.
This Wire-Free Dog Fence is totally portable! It can be taken by the owner while visiting friends and family. It's less of a hassle when moving into another home. WIFI Dog Fence can be up in running in minutes compared to the weekend project with other systems. The Collar is rechargeable. The Perimeter WIFI Dog Fence System is the only Dog Fence a dog owner will ever need.
Adding this product to the Wireless Dog Fence page of the website provides customers with an option that may better suite their needs. There are characteristics unique to each type of system that make choosing the correct product very important to achieve optimum results.
About DogWirelessPlus
Started in the summer of 2012 DogWirelessPlus.com provides Wireless Dog Products to help dog owner's track, train, and contain dogs including Wireless Dog Fence, GPS Dog Collars, Dog Training Collars, GPS Dog Fence, and now WiFi Dog Fence. Some dogs may seem nearly impossible to train, but a simple wireless dog device can provide the solution. For the very best in Wireless and GPS products for dogs, shoppers can visit http://www.dogwirelessplus.com/