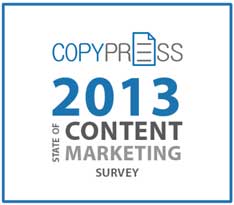 Tampa, FL (PRWEB) February 12, 2013
The interactive version of the white paper can be found here, Interactive White Paper.
The study focuses on giving marketers insights into the goals and actions of their peers as they move deeper into 2013. The main insights revolve around how budgets will be spent, where marketers are finding ROI in content, and where possible wins may be lying. Several interviews and case studies round off the white paper, along with CopyPress' insight into the data.
"Content marketing is a term being thrown around the marketing space today quite frequently, but we feel few people really understand exactly where to start," stated CopyPress CEO, Dave Snyder, "What better way to get a running start than to hear what has been successful from others?"
About CopyPress:
CopyPress is a software company based out of Tampa, FL with a focus on tools that make content production, promotion, and conversion more successful. With a marketplace of hundreds of writers, designers, and creatives, they handle the Content Life Cycle for clients such as Macy's, eHarmony, and eBay.
For more information contact:
Nicole Jones – Marketing Coordinator
njones(at)copypress(dot)com