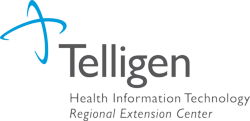 This achievement will truly benefit patient care, which is the most exciting part.--Susan Brown, Director of Telligen REC
West Des Moines, Iowa (PRWEB) February 12, 2013
In December 2012, the Telligen Iowa HIT Regional Extension Center successfully achieved 100 percent of their Milestone 2 goal – 1,200 providers live on a certified electronic health record with active quality reporting and e-prescribing. Telligen REC now joins the ranks of 13 of the 62 federally designated RECs nationally who've reached this goal.
"This achievement will truly benefit patient care, which is the most exciting part. 2012 was a tremendous year for Health IT adoption in Iowa, and we were fortunate to support so many outstanding providers with the technology foundation and workflow redesign that was required," said Susan Brown, Director of Telligen REC.
According to the HITECH Act of 2009, preferred primary care physicians are required to achieve Meaningful Use of EHRs by 2014. Therefore, the Telligen REC must reach three milestones by February 2014:
-M1: Signed technical assistance contracts between the Regional Center and provider
-M2: Documentation of Go-Live status on a certified EHR, with active quality reporting and electronic prescribing
-M3: Meeting the meaningful use criteria established by the HHS Secretary
The Telligen REC began recruiting PPCPs in February 2010, and achieved their Milestone 1 goal by reaching 100 percent of their recruitment goal in December 2011.
Telligen REC Expertise
As the federally designated HIT Regional Extension Center for Iowa, Telligen is assisting at least 1200 primary care providers and 84 critical access and rural hospitals with improving care for their patients through the adoption and meaningful use of EHRs. Telligen's strategies are built on practical experience, quality improvement expertise and high level technology support. These competencies help Iowa practices and hospitals achieve meaningful use of EHRs and engage in health information exchange.
Approximately 600 Telligen REC clients have successfully achieved stage one meaningful use and received incentive payments. "We quickly learned that having an outside expert resource was vital to the success of meeting Stage 1 meaningful use," said Betty Etherington, Telligen REC client.
For additional information on the Telligen Iowa REC along with a schedule of relevant Meaningful Use webinar topics, please visit: http://www.telligenhitrec.org
###
About Telligen HITREC
Telligen HITREC was awarded through an objective review process by the U.S. Department of Health and Human Services, Office of the National Coordinator for Health IT, as the designated organization in Iowa to support primary health care providers on EHR adoption and meaningful use. For more information, visit http://www.telligenhitrec.org or call 800-373-2964. To learn more about EHR adoption, meaningful use and other areas of health IT, visit http://www.healthit.gov.
About Telligen
For over 40 years, Telligen has been dedicated to the delivery of innovative health management solutions that improve the quality and cost-effectiveness of healthcare for consumers and providers. Telligen serves commercial clients and government programs at federal, state and local level, improving healthcare for millions of people nationwide. For more information, visit http://www.telligen.org.
In Partnership with: The Office of the National Coordinator for Health Information Technology (ONC) U.S. Department of Health and Human Services grant 90RC0004/01. IA-HITREC-02/13-750