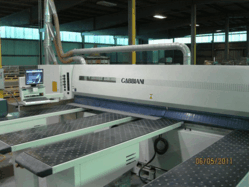 Liittleton, CO (PRWEB) February 11, 2013
The American Fiber Cement Corporation (AFCC) has unveiled their newest state-of-the-art computer controlled machine for quick and highly effective cement building jobs. The AFCC is one of the largest distributors of cement building for Euro Panels overseas and product lines in the United States. The company has over 20 years of experience and does not shy away from making large investments in heavy machinery to make sure jobs run on time and on budget.
When doing a job involving fiber cement cladding that requires fabrication (cutting or drilling) it is important that these services are performed locally. This greatly improves delivery times and simplifies the whole logistics chain in supplying panels to the jobsite. If something were to happen with the products marketed by AFCC they are backed by comprehensive warranties and technical support for architects and installers.
AFCC has invested in state-of-the art fabrication capabilities to insure jobs progress smoothly. AFCC can fabricate material on either the East Coast or the West Coast so the supply is close to the jobsite. This combined with our extensive domestic inventories give the contractor the greatest assurance that materials are readily available. Even in those instances where panels get damaged or broken on the, replacement becomes faster and easier to insure and the job can avoid unnecessary delays.
The computer controlled Gabbiani saw pictured below is not only fast, but gives precise clean cuts not possible with lesser equipment. Its automated functions deliver the most versatility at the most cost effective price for cutting fiber cement.
To learn more about the American Fiber Cement Corporation and their cement cladding products visit the website or call Phone: (303)-978-1199 x102 to reach a representative.