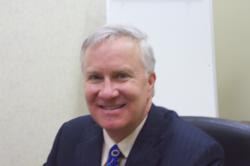 Zalman Tenenbaum, President & CEO of Dynarex said "We are excited to welcome Bill to the Dynarex and join us in wishing Bill much success as he embarks upon his national role in leading the sales organization
Orangeburg, NY (PRWEB) February 13, 2013
Dynarex is pleased to announce the appointment of Bill Roberts to the position of National Sales Manager at their Orangeburg NY corporate office. Bill Roberts is joining Dynarex as the new National Sales Manager after nearly 30 years in the medical sales business. Originally from the Pacific Northwest Bill graduated from Washington State University with a degree in Journalism.
He started his sales career with Bristol Myers selling health and beauty aids to retail corporate customers in Spokane, Washington. Soon after he entered the medical sales arena with Ethicon, Johnson & Johnson selling wound care products in Spokane and then Seattle, Washington. Bill spent the next 10 years based in Seattle with capital equipment corporations such as Storz Instrument Company (ophthalmology), Burdick Inc. (cardiology) and then Getinge USA (operating room and sterile processing equipment/consumables). Bill was employed by Getinge USA for 14 years in Seattle, Phoenix and Rochester, NY in a variety of roles such as Surgical Sales Specialist, Business Development Manager, Manager Sales Programs, Senior Surgical and Infection Control Manager, East Area Consumables Sales Manager and Channel Management Director for Distribution.
Bill and his family currently reside outside Rochester, New York but plan to relocate near the Dynarex corporate office in Orangeburg, NY this summer. Zalman Tenenbaum, President & CEO of Dynarex said "We are excited to welcome Bill to the Dynarex Family. Please join us in wishing Bill much success as he embarks upon his new national role in leading the Dynarex sales organization."