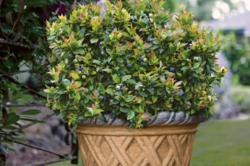 Today's tuned in consumer wants it all; long-blooming color, easy to grow, low maintenance plants that are great performers and environmentally friendly products.
Philadelphia, PA (PRWEB) February 13, 2013
When it's time to start digging in the garden, having the latest plants and products is high on every gardeners' list. To make the job easier, Garden Media Group trend spotters, have put together their list of superstars for spring, ranging from sustainable companies and unique new plants to something for our feathered friends.
"Today's tuned in consumer wants it all," says Susan McCoy, gardening expert for the Philadelphia area firm. "They want long-blooming color, easy to grow, low maintenance plants that are great performers and environmentally friendly products."
McCoy has long stated, "Just plant something!" She proclaims the new Garden Superstars "will inspire novices and seasoned gardeners to create the garden of their dreams with a nod to being a good steward for Mother Nature."
Sustainability is necessary.
The selection available online for unique and delicious heirloom vegetables far surpasses anything found in supermarkets. Yet finding a seed company that you can trust is not easy. Sustainable Seed Company offers over 1,500 varieties of heirloom and certified organic seeds and is proud to practice environmentally responsible farming techniques. Farmer John Fendley, owner of Sustainable Seed Company, is proud to be the only company of its kind that is powered by solar and wind.
"Sustainability should be a top priority for gardeners," says Farmer John. "Growing your own food is the most rewarding and sustainable thing you can do."
Sustainable Seed grows over 50% of the seeds they offer on their certified organic farm without any chemical fertilizers or pesticides. Trust them.
Making pest control smarter.
For over 30 years, RESCUE!® has innovated the consumer insect control category by luring insects to traps with scent-based attractants – namely, pheromone and feeding lures. Now, they're branching out by using visual cues to attract the insects. With the new electro-retinogram (ERG) in their insect research lab, RESCUE!® scientists have created VisiLure™ technology – luring bugs with colors, shapes and other visual stimuli to which they respond.
The first RESCUE!® products to employ this technology are the new Fly Tape, on store shelves now; and TrapStik™ for flies, on the market to consumers this summer. As with other RESCUE!® products, Fly Tape and TrapStik™ are made in the USA.
Add Tropical Sizzle to Your Garden.
It's all about bold, beautiful color this season and Suntory Flowers' new Sun Parasol Garden Crimson Mandevilla gives you just that! As the first true bedding mandevilla for the garden, it produces large 3-4 inch, crimson blooms that are naturally compact and stay true to color. Offering high pest and disease resistance, this tropical beauty adds instant color in garden beds, containers and in hanging baskets. Plus, it doesn't require a trellis for support.
Easy Pickins with Edibles.
Low maintenance, small fruit shrubs that provide ornamental appeal and give delicious berries for health and wellness are high on the list among those seeking a positive lifestyle. A game-changing new super dwarf blueberry from Fall Creek® Farm & Nursery's new BrazelBerries™ Collection is available this spring.
Jelly Bean's™ four seasons of color and tidy mounding shape make it a great addition to any garden. This cold hardy berry shrub is prolific, producing a bumper crop of large-sized blueberries by mid-summer, with super sweet flavor that tastes like homemade jelly! Brilliant green new foliage in spring gives way to darker greens and reds throughout summer and fall. In cooler climates, summer brings red leaf edges along the sides and tips of its uniquely elongated leaves. Try it as hedge along a pathway, mixed in with other ornamentals in the landscape or on a patio in a container.
Feed the birds.
Attracting and feeding birds while keeping the squirrels away can be a daily challenge. Now with Perky-Pet's® Squirrel Slammer Wild Bird Feeder, you can enjoy your birds and go through less seed. This new feeder features a distinctive weight-activated slammer that closes its ports instantly under a squirrels' weight. It has an adjustable weight setting so you can decide which birds to keep out. Plus, the high quality metal base and ports prevent squirrel damage and the plastic clear cover acts as another squirrel deterrent while keeping your seed dry.