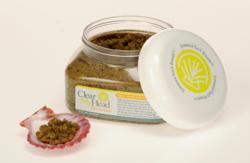 'There's nothing quite like it on the market - and we're proud of that! - Brenda Stansfield, President, Clear My Head.
(PRWEB) February 13, 2013
Why a Vegan Sugar Scrub Matters: Clear My Head's New 'Invigorate' Delivers More
Is your sugar scrub vegan? If you thought all sugar scrubs are made equal, it's time to think again. Many use processed white or brown sugar – it's cheaper, but it's processed through animal char (read cow bones) Since the makers of Clear My Head don't test on animals, they didn't feel it was right to have ingredients processed through them. "'Invigorate' is our newest offering in our bath and body line," said Brenda Stansfield, President of Clear My Head. "Sure to be a hit with both men and women in and out of the spa. We think it's perfect to use in the morning when you need to wake up and get going – or for those days you need to revive and squeeze out a few more hours of productivity."
The scrub, 'Invigorate', uses raw sugar with a larger grain. This is good news for consumers because the product will cover a larger surface area before dissolving in the water of the shower or tub, so they use less. Blended with Coconut & Sunflower oils, organic Shea Butter & Beeswax and enriched with Vitamin E to create a thicker scrub that nourishes the skin effortlessly, without a greasy residue after rinsing with warm water. The natural color comes from wild-crafted peppermint leaves and powder – that cools and tingles with delight and provides the dark green herbal color.
"We're very excited about this product – we tested it in our spa on over 40 people to rave reviews", said Mrs. Stansfield. As a matter of fact it tested so well that the product launch was moved up several months due to demand. "There's nothing quite like it on the market, and we're proud of that!" The scrub comes in an 8 ounce jar that has approximately 16 applications. It retails for $18.00. Clear My Head Products are available through fine Spas, Massage Clinics and Holistic Care facilities nationwide.