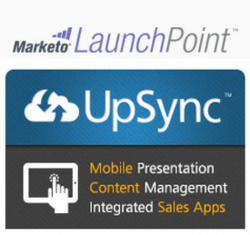 "UpSync addresses a crucial aspect of marketers' need for complete data by automatically capturing metrics from reps' in-person buyer interactions."

- Robin Bordoli, VP Partner Ecosystems at Marketo
Boulder, Colo. (PRWEB) February 12, 2013
UpSync announced that its mobile sales enablement platform is now available as part of the Marketo® LaunchPoint™ ecosystem of marketing solutions. Marketo® LaunchPoint™ provides a powerful, complete hub for marketing professionals to find the best solutions to help them drive better results in less time.
UpSync is a cloud-based solution offering field sales teams using mobile devices, a controlled, measured content delivery system, with robust tracking and integrated sales applications. UpSync supports a broad range of content formats, including traditional slide decks, images, video and documents.
"UpSync is a perfect fit with Marketo's focus on meeting today's marketing imperatives of engaging and selling to buyers wherever they may be," said Robin Bordoli, VP Partner Ecosystems at Marketo. "In addition to its elegant mobile presentation and content management capabilities, UpSync addresses a crucial aspect of marketers' need for complete data by automatically capturing metrics from reps' in-person buyer interactions."
"For many marketers and sales managers the face-to-face sales conversation is a data black hole," said UpSync's Director of Marketing, Marya Read. "UpSync closes the data loop by automatically tracking and providing detailed metrics on what content is being presented, to whom and how that content is being shared."
"Marketo has been an innovative leader in the marketing automation space from the beginning," noted UpSync Senior Vice President of Sales, Severan Johnson. "We're thrilled to partner with Marketo to offer an integrated mobile solution for today's data-driven marketing and sales organizations."
About UpSync
Boulder-based UpSync™ offers businesses with mobile sales professionals an efficient means of managing, accessing and distributing their content and business applications to any mobile device.
The company's cloud-based solution was developed to simplify access to mission-critical sales materials and integrate data-driven applications, regardless of device or connectivity. UpSync offers a free trial version of the software.
About Marketo: Marketing Software – Easy, Powerful, Complete.
Marketo uniquely provides easy-to-use, powerful and complete marketing software that propels fast-growing small companies and global enterprises alike. Marketo's® marketing automation and sales effectiveness software streamlines marketing processes, delivers more campaigns, generates more win-ready leads, and dramatically improves sales performance. With proven technology, comprehensive services and expert guidance, Marketo helps thousands of companies around the world turn marketing from a cost center into a revenue driver.
Known for providing breakthrough innovation and fueling explosive growth, in both 2011 and 2012 Marketo received the CRM Market Leaders Awards Winner for Marketing Solutions by CRM Magazine. Salesforce.com customers also honored the company with the AppExchange Customer Choice Awards for 2012 in the marketing category.
###
Marketo, the Marketo logo and LaunchPoint™ are trademarks of Marketo, Inc.