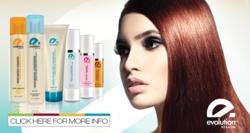 Evolution Keratin Continues to Grow More Than Just Hair
Coral Springs, FL (PRWEB) February 14, 2013
After a lengthy negotiation period, a deal has finally been put in place to make Proline Beauty Distributors the authorized dealer of Evolution Keratin. The agreement comes on the heels of a revamped advertising campaign that could land the Miami-based haircare company alongside the top names in keratin products. As the keratin trend continues to grow, Evolution isn't concerned with the current over-saturation of the market.
Founder of Evolution Keratin, Pilar Gonzalez states: "We realize a lot of companies are trying to capitalize off the recent popularity of keratin, often compromising the products quality. We've invested a lot in research and we're confident that our customers will feel more confident and radiant after just one use. We're devoted to making Evolution Keratin users look beautiful, and we're fully aware that if we didn't provide a superior product, there would be no Evolution."
With their products featured on Telemundo's Acceso Total in December; Evolution Keratin has expanded their already healthy customer base. Their most popular products, Smoothing Therapy Treatment, Clarifying & Moisturizing Shampoo and Conditioner contain natural Argan oil as well as essential vitamins and proteins that restore damaged hair back to its optimal health and shine. The revitalized hair is then tested under some of the roughest conditions in the country; Florida is notoriously known for its humidity which causes hair to be frizzy and unruly. Evolution Keratin's products ensure smooth and stunning hair even in the most uncooperative weather.
Salons across the country have since evolved with the company by taking advantage of their Silver Kit promotion. This is a prime opportunity for salons to increase revenue while simultaneously growing awareness for Evolution Keratin. Evolution Keratin will provide salons with a wide line of products worth $150.00 for only $60.00. Stylists will then be able to produce a potential revenue of $680.00, which is over a ninety percent value.
The Silver Kit promotion is among several plans Evolution Keratin has for 2013. They are determined to introduce their products to a variety of markets by emphasizing hair health. "We started Evolution to help women feel as beautiful as they can be. It's a passion of ours to spread that confidence to the next generation of girls." said Pilar Gonzalez. Evolution Keratin has set out to provide the best keratin treatment on the market. Based on their moves thus far, they should quickly find themselves head and shoulders above the competition.
About Evolution Keratin
Evolution Keratin LLC was founded on the basis of creating and finding solutions for everyday essential beauty needs. Our objective is to utilize the strength of nature and the power of technology to provide balanced yet superior care products. We are committed to investing in studies and research to develop new products, techniques, and ingredients that will nourish, regenerate and protect hair in its entirety.
For more information, please visit http://www.evolutionkeratin.com or http://www.facebook.com/EvolutionKeratin