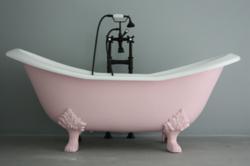 (PRWEB) February 12, 2013
After several seasons of muted shades for bathrooms, today's trends call for more vibrant color schemes. Just in time for Valentine's Day, Baths of Distinction says the current trend for vintage clawfoot and pedestal tubs is pastel tones.
Bill Hamilton, owner of Baths of Distinction, says "Color choice is really coming to the fore for bathrooms and tub colors are playing a big part in this." He says his company is experiencing a large uptick in orders for pastel exterior finishes on its freestanding tubs. He also says many clients are matching the tub exterior with the walls or other bathroom details.
Baths of Distinctions is also seeing a large demand for shades of bisque, aqueduct blue, soft pinks and pale beige. "Most customers will either give us a Sherwin Williams, Behr or, say, Ralph Laurent paint color number and we will match it," Hamilton says.
Special chromed and metal-look exteriors are also in demand. Hamilton says homeowners who want the appearance of a cast iron tub without the trouble of installation may opt for aged or worn metal finishes on acrylic tubs.
Hamilton says his company is now doing exterior coatings and treatments on about 14% of bathtubs sold. This is up from about 8% a year ago and the trend is continuing upwards.
About Baths of Distinction:
Baths of Distinction offers a full-range of high-quality clawfoot and pedestal bathtubs in custom finishes. It is an industry authority on vintage-inspired tubs and fixtures with experts who can bring your vision to life, whether it includes modern charm or Victorian elegance. Baths of Distinction is based in Florida, but ships its tubs around the world. To discover what Baths of Distinction can do for you, visit BathsOfDistinction.com.