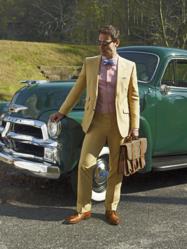 "We've come out of the economic slump," reflected Tom James President Todd Brown. "Frugal fatigue is spurring people to outfit themselves as a means to better invest in their futures."
Tampa, FL (PRWEB) February 13, 2013
Over 500 clothiers from around the world gathered to celebrate the Spring 2013 Collection from Tom James Company, the world's largest manufacturer and retailer of custom men's (and women's) clothing. Hosted in Tampa, Florida clothiers and representatives from Tom James in the United States, Canada, England, Germany, France, Dubai and Australia met to view the cutting-edge tailored collection that epitomizes the modern man of substance and style.
This year's Spring Collection adds a few fresh, new pieces of tailored clothing and sportswear designed to increase the utility of everything in a closet. Described as "rugged individualism and American heritage with a healthy measure of preppy sportiness and more than a dash of European artistry and charm" the new collection is inspired to reflect a sense of dynamic accomplishments and confidence in each and every man.
"We've come out of the economic slump," reflected Tom James President Todd Brown. "Frugal fatigue is spurring people to outfit themselves as a means to better invest in their futures."
Director of Merchandising, Catherine Conway added, "I came across a study by Adam D. Galinsky of the Kellogg School of Management at Northwestern University. In his study he proved that what a person wears does, indeed, influence his performance. To our clients, this is huge. In an age where we've grown accustomed to casual clothing in the work place, it causes us to pause and ask if we're doing the right thing. Being competitive is more than just having the sharpest pencil – it's being the sharpest dressed, as well."
The International Meeting also revealed that Tom James finished the fiscal year with a sales increase of 10% and that the company is hiring, even as many others are not. Discussions were held around the industry's new found prominence and direction toward custom clothing and the Tom James Company highlighted the success of new initiatives recently overseen by the company, such as the deployment of iPads to clothiers as a customer service tool. Clothiers also received training in fabrics, fit and new garments.
For the latest in Tom James fashions, consult the Men's Spring 2013 Lookbook or the Women's Spring 2013 Lookbook.
About Tom James Company
The Tom James Company is the world's largest manufacturer, retailer and direct seller of custom clothing. Their highly trained tailors come directly to a client's location of choice to save valuable time. Tom James operates 109 offices in 36 US states and 5 countries, internationally. It owns and operates 3 worsted woolen mills, 9 tailoring facilities and is proud to say 95% of its finished clothing products are made in the USA.
Visit http://www.tomjames.com for more information.