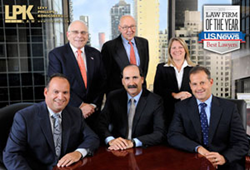 APPLETON, Wisconsin (PRWEB) February 15, 2013
Wisconsin mesothelioma lawyers from the national asbestos litigation firm of Levy Phillips & Konigsberg LLP ("LPK") are currently representing clients in multiple Wisconsin asbestos personal injury and wrongful death cases.
Every year, thousands of men and women across the country are diagnosed with mesothelioma, including many in Wisconsin. According to the Centers for Disease Control and Prevention, Wisconsin is ranked 14th in the nation on asbestos deaths from malignant mesothelioma, a rare, incurable cancer caused by exposure to asbestos. Mesothelioma and other asbestos-related diseases could have been prevented if workers had been warned about the dangers of asbestos and had been properly protected from exposure to the deadly carcinogen.
According to the Wisconsin mesothelioma lawyers at LPK, with its "rust belt" cities of Milwaukee, Racine and Kenosha, and extensive automotive and farm equipment plants, machine shops, paper mills and production plants, breweries, and pharmaceutical, cosmetic and industrial chemical plants, Wisconsin was and still is home to several industries that have significantly contributed to asbestos exposure.
As part of its industrial framework and location on the Great Lakes, Wisconsin was also the home to a number of shipbuilding companies, whose storied ship-building history included an entire fleet of WWII submarines and numerous other military and commercial vessels. Heavy amounts of asbestos were used during both the construction of the vessels and then to insulate machinery onboard the ships - all making shipyards among the most asbestos-contaminated work sites known. Moreover, many schools, hospitals, public buildings, and most power plants in Wisconsin have been found to be sites of asbestos exposure.
Lori Benavides, a Wisconsin-licensed mesothelioma lawyer, shares a sampling of work sites that may have contributed to asbestos exposure in Wisconsin at LPK's website.
If you or your loved one are a Wisconsin resident or were exposed to asbestos in Wisconsin, and have been diagnosed with mesothelioma or another asbestos-related disease, please call 1-800-637-6529 or contact us electronically at http://www.levylaw.com/mesothelioma-attorneys.php to receive a FREE consultation with experienced Wisconsin mesothelioma lawyers at Levy Phillips & Konigsberg LLP.