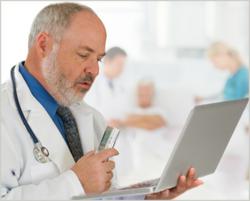 "SayIt has expedited my record keeping and charting. The macros have helped me minimize my keystrokes." - Dr. James McGlynn M.D.
Collegeville, PA (PRWEB) February 11, 2013
In the summer of 2012, DataTrade Solutions (DTS) teamed with nVoq to provide the physicians that DTS supports with the SayIt ™ speech recognition solution. In just the eight months that SayIt has been in the DTS arsenal of offerings, providers are enjoying the perks that come with using a cloud based solution for their speech recognition needs. SayIt is simple to deploy and support and operates as a speech-overlay technology for direct input to EHRs, mobile forms and other Windows-based applications.
One of the key benefits of SayIt is that a provider's use of the application is not limited to the computer where the speech recognition software was installed, because SayIt enables users to create a profile in the cloud and access the application from an Internet browser. In addition to this flexibility, features such as workflow shortcuts and customizable vocabulary make SayIt an ideal tool for the medical industry which often employs words that the general public would need several attempts to pronounce. Utilizing workflow shortcuts allows the user to insert blocks of text with a basic voice command.
Dr. James McGlynn M.D., of Orthopaedic Associates, a division of Premier Orthopaedics and Sports Medicine Associates, LTD, has been using SayIt for over six months. "SayIt has expedited my record keeping and charting. The macros have helped me minimize my keystrokes." said Dr. McGlynn.
"The SayIt solution configured and managed by DTS means several important things: Users get a flexible, works-from-anywhere speech recognition application, and users gain confidence by learning the features and shortcuts that SayIt offers while training with DTS staff. DTS handles all of the setup and configuration, which makes the whole process as painless as possible for providers and their administrative staff. In addition to all of these benefits, SayIt's powerful Administrative Console helps DTS staff troubleshoot early dictations, saving providers time and aggravation," said Jim Rowland of DTS.
Providers looking for more information on SayIt are encouraged to go to the SayIt page on the DTS website, or visit http://www.nvoq.com. Any practice or provider interested in SayIt should send their inquiries to info(at)datatradesolutions(dot)com or call the DTS sales line at 484-972-0974 option 1.
About DataTrade Solutions, Inc.
Located in Collegeville, PA, DataTrade Solutions is a Health IT solutions provider currently supporting approximately 2000 physicians across the United States through assessment, customization, implementation and support of IT systems.