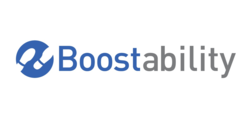 I take pride in creating jobs for the local community
American Fork, UT (PRWEB) February 14, 2013
Boostability, a Utah-based SEO company, is pleased to announce the opening of an additional office located at Orem's Wolverine Crossing. The space will allow the company to employ an additional 150 people in 2013.
Despite a difficult economy, Boostability doubled in size and hired more than 120 new employees during 2012. They currently employ over 200 individuals in positions whose work ranges from data entry to web development. In addition to local hires, Boostability employs over 1,500 work-from-home contract writers who live throughout the U.S. and Canada. With its much-needed space, the new office will enable more growth for the company in 2013.
Boostability attributes their record growth to an expanding small business marketplace that is in need of effective online marketing services. According to Entrepreneur Magazine, there are between 25 and 27 million small businesses operating in the United States. To compete, many of them have shifted their marketing dollars from traditional methods to internet marketing. Boostability's strategy is to focus on servicing small businesses by offering better products at more affordable prices than its competitors.
Rick Horsley, co-founder and President of Boostability, said, "Small businesses drive the economy; they are the ones to focus on... Boostability was made to help the entrepreneurs realize their dreams and reach their customers. When we create an environment in which small businesses can succeed, they hire help and give back to the local economy."
Travis Thorpe, Boostability's CEO, echoed Rick's comments by saying "Small businesses are the lifeblood of the economy. Offering them a cost-effective service that allows them to concentrate on their business helps the entire community prosper."
Boostability's progress is not only helping the small businesses they serve, it is having a positive impact on the local community of Utah Valley. The addition of a second office and the new hires that come with it will inject tens of thousands of dollars into the local economy and provide hundreds of employees with valuable training and experience in a growing industry.
"I take pride in creating jobs for the local community—our company is making a positive difference for companies around the world, starting with the ones here in Utah Valley," Thorpe summed up. Horsley added, "If one of the small guys succeeds in a local economy, everyone else benefits."
About Boostability
Boostability is a Search Engine Optimization company focused on providing online optimization services to small and local businesses. With a number of high-profile partners in various national and international business sectors, the company has become a trusted name in SEO. Boostability keeps their work completely transparent and visible to clients by offering easy-to-read reports, expert analysis, and world-class customer support. The company values versatility and will continue to evolve with the ever-changing landscape of SEO. For more information on Boostability or to apply for employment, visit http://www.boostability.com.