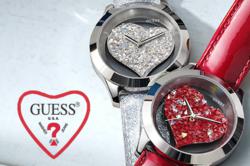 Love is in the air...and what better way to wear your heart on your sleeve than wearing it as an accessory on your wrist.
Norwalk, CT (PRWEB) February 12, 2013
The new open-heart style is the perfect flirty timepiece during this time of romance. Available in a genuine patent leather strap of shimmering silver or lustful red, each variation features a shining silver-toned case that hugs a floating heart adorned with complimentary-colored crystals. This open-heart accessory lets love shine through while adding sparkle and delight to every occasion.
A more feminine silhouette in the collection causes any girl's heart to skip a beat. The patent leather strap in glittering silver is partnered with a full dial of glitz and two dainty heart details. Also available in a show-stopping crimson strap, either variation is sure to spark passion for heart-inspired fashion.
Give the timeless gift of love this season with heart to wear on a wrist.
About GUESS Watches:
GUESS Watches is a timekeeping accessory company with a focus on lifestyle- driven fashion. GUESS Watches launched its first collection in 1983 with a line of men's and women's fashion watches. Constant attention to new ideas and cutting-edge design keep the brand relevant to today's trends.