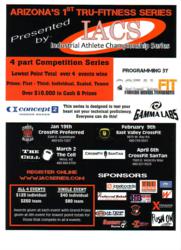 Chandler, AZ (PRWEB) February 12, 2013
The Industrial Athlete Championship Series is a one-of-a-kind fitness series competition that derives its challenges through the combination of CrossFit and SEALFIT programming. Join us for the third (of four) 2013 IAC Series events on Saturday, March 2nd at The Cell Gym in Mesa, Arizona. Test your heart, strength, endurance and overall mental toughness. Test individual limits and push into the uncomfortable in order to grow.
IAC is a four-part series that allows all levels of competitors to compete and challenge themselves in this monthly point-based Championship program. Not to be mistaken for a hyper-technical CrossFit only event, all athletes are welcome to participate and test themselves against the unknown. The competitions will be functional physical and mental fitness tests of four to six minute duration with individual and team divisions. Expect events with challenges you have never prepared for. There is no perfect way to train for this as the competition is only announced four days prior to the event.
All IAC Series programming is done in partnership with Mark Divine, Founder of SEALFIT, US CrossFit Encinitas, the online Unbeatable Mind Academy and NavySEALS.com. Divine is a former Navy SEAL and is currently a world class mental toughness and conditioning trainer to athletes around the globe. Divine and his COO, Lance Cummings are coming up with a spicy program including stone carries and burpees to rows and pull ups.
Outside of individual comfort zones, personal growth and personal gain, IAC Series participants will bring comfort to a local child who desperately needs help. At 16 months young, Savannah was diagnosed with Juvenile (type 1) Diabetes. She was also diagnosed with Intestinal Lymphangiesctasia, which requires her to have a food tube to feed her every night for 10 hours because her insides won't absorb protein correctly. Learn more about Savannah's Story. Money raised during this event will go directly to the purchase of a service dog (approximately $7,000) for her and her family. A little sweat and discomfort – all for a good cause.
Series participants range from fire, police or first responders, to school teachers, chiropractors, steel workers and moms. Series event four takes place on April 6 at CrossFit SanTan also located in Mesa, Arizona. Get your team, or go solo – for more information, rules and to register, please visit http://iacseries.com/.
Press Inquiries? Contact Tiffany Melone at (858) 224-2460 or tiffany(at)deliciousbuzz(dot)com.
More on Mark Divine: With an MBA from NYU Stern School of Business and a CPA in his briefcase, Mark learned the majority of his good leadership skills when he became a Navy SEAL officer. Mark since started his career as an entrepreneur and is now running successful US CrossFit and SEALFIT Campuses in the heart of North County San Diego, training thousands via his online Unbeatable Mind Academy, and enlightening others via his numerous trainings and publications. Often tasked with developing programs to help prepare students for the physical and mental riggers of BUDS/SEAL training, Divine also runs world renowned Kokoro Camps, intense crucible 50 hour experiences modeled off of the famous Navy SEAL Hell Week.