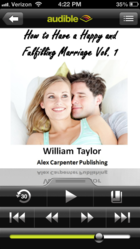 "Now couples can improve their marriage on the go"
PA (PRWEB) February 13, 2013
Love and romance for many seems to be something that only happens when couples first meet. Love appears to be something that some people have "discovered". To have and experience love is a deep need that many want, but few know how to create and maintain.
While creating love, comes naturally to some, like dancing does to some, so does creating a loving marriage. Some couples know how, while others seem to struggle.
This audio program shows couples how to dance together, how to create the love they have always wanted. While most people are healthy effortlessly when they are younger, over time they find they must workout to maintain their physical vigor, marriage is no different.
This program appeals to those that don't know where to start, but know where they want to get to, a place to reconnection and lasting love.
This audio book shows couples how and why love is often lost over time and how to get it back.
With the program now on Audible, it can now be downloaded to smartphones, mp3 players and other mobile devices. In a time when many have fewer hours of down time, and longer commutes, Audible offers a great way for people to continue to learn and grow, while they commute, exercise, run errands, etc.
Written and narrated in a warm conversational tone; users can listen to each day's material, covering a single key topic, each topic building on the next. The program has days dedicated to topics, like "Expectations", "Money", "Communication", "Handling Conflict", "Forgiveness" and others. Here the latest and most effective marriage research and concepts are brought to life allowing listeners to apply insights to their own marriage. Each track lasts about 25 minutes in length, with the entire 31 Day Program in Volume 1 & 2, being nearly 14 hours in length.
About Alex Carpenter Publishing LLC
Alex Carpenter Publishing LLC is committed to providing the best in personal growth resources to improve the quality of people's lives. Based in PA, Alex Carpenter LLC works to develop innovative programs using the latest concepts and technologies and making them understandable and accessible to people using mobile and web technology.