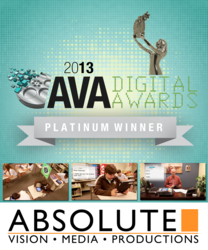 This is a fantastic milestone for Absolute and our commitment to quality Chicago media.
Chicago, IL (PRWEB) February 12, 2013
Absolute Vision Productions, a Chicago-based media and production company, has been recognized with three awards at this years AVA Digital Awards competition. Competing against over 2,000 entries from throughout the world, Absolute received a Platinum Award in the Video for the Web / Educational Institution category, and two Gold Awards in web video for Marketing (Product) and Corporate Image.
Top honors went to Absolute Vision's collaboration with educational institution Joliet Catholic Academy, a admissions video entitled "Prom?". The video, produced to build awareness of new technology at the academic institution, wowed the judging community with its genuine story and comic twists. This award follows three years of high-profile videos produced by Absolute for JCA, in addition to other educational institutes, universities, and community college organizations.
Absolute Vision Media was also recognized with additional Gold Awards in two separate categories. The first recognition came from a web promotional spot for Medieval Times Dinner and Tournament, entitled "Red Knight". The branding piece embodies the thrills of the Medieval Times experience through the story of one of the castle's knights. The second was awarded for a viral commercial for Federal Life Insurance Company, entitled "Three Percent", featuring a bumbling burglar during an art heist. The amount of recognition places the local Chicago company amongst the most celebrated producers at this year's awards.
"This is a fantastic milestone for Absolute and our commitment to quality Chicago media.", said Mark Smith, owner and Creative Director for Absolute Vision. "We're thrilled that our work is appreciated not just by our clients and their audience, but the greater creative community."
The AVA Awards is an international competition that recognizes outstanding work by creative professionals involved in the concept, direction, design and production of media that is part of the evolution of digital communication. Absolute Vision Production is among exceptional company in this year's AVA winners list, which also recognized work produced for iconic brands such as Intel, Mercedes, Dell, NASA, and Hilton Worldwide.
These awards continue a highly successful 2013 for Absolute Vision Media. Including an upcoming marquee video series for IIT Chicago-Kent College of Law, Absolute Vision finds itself at the forefront of video production for academic media and educational video. For more information about Absolute Vision's video production services, please email Mark(at)AbsoluteVisionProductions(dot)com.
Links to Award-Winning Videos:
Joliet Catholic Academy - Prom?
Medieval Times Dinner and Tournament - Red Knight
Federal Life Insurance Company - Three Percent
About Absolute Vision Productions:
Absolute Vision Productions is a Chicago-based media and production company. Whether for agency-style media, professional video production, local production crew, or general marketing and advertising, Absolute offers national-level experience with local connections and know-how for corporate, industrial, commercial, and creative purposes. To learn more, visit http://www.AbsoluteVisionProductions.com.