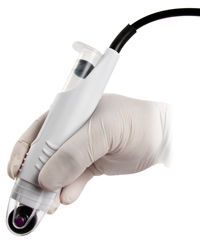 DermaFrac offers a painless, no downtime microdermabrasion treatment.
Dallas, TX (PRWEB) February 12, 2013
Genesis Biosystems Inc., a leading manufacturer of professional microdermabrasion equipment will be a fresh face at the 2013 Esthétique SPA International trade show in Las Vegas, February 24-25, 2013. The show, held at the Venetian Sands Expo, focuses on the aesthetic, spa and wellness industries, and brings together spa owners, esthetic professionals, and esthetic equipment manufacturers for networking, sharing of best practices, and training on new techniques and technologies. "This is our first year to exhibit at this show," says Chris Jackson, VP of Sales and Marketing. "It gives us a great opportunity to network with spa owners, and to share information about customer satisfaction. We are very excited to participate."
Genesis Biosystems is also excited to introduce the DermaFrac™ Micro-Channeling System, an innovative dermal micro-channeling treatment. A lower-cost alternative to fractional laser treatments, the system creates micro-channels to the dermal-epidermal junction and simultaneously infuses high grade topicals directly into this tissue layer. Precisely calibrated micro-needles, which can be administered by an aesthetician, offer a deeper active infusion of topicals and provide for a completely painless procedure without the need for anesthesia.
Genesis Biosystems will demo the DermaFrac system in booths 213-215 at this year's Esthétique SPA trade show. They will also host a clinical hands-on demonstration class, Microneedling and DermaFrac™- Compare and Contrast, Sunday, February 24, at 1:30 pm in room 305, which will introduce DermaFrac technology and teach participating estheticians how to use the system and educate their clients.
About Esthétique Spa International
Esthétique Spa International (ESI) offers the best education at the most affordable price in the spa and wellness industry.
Spa professionals gather at ESI events all over North America for practical business solutions, trend information and the latest offerings and insights from leading industry suppliers. For more than 20 years, ESI has been organized by tradeshow veterans Bernard Renaud and Robert Lamarche.
ESI attracts qualified visitors from North America and abroad. Personal attention, quality education and a carefully-chosen show floor of quality exhibitors are the hallmarks of all their shows. Comprehensive educational programs featuring renowned industry-leaders and curated show floor attract spa owners, managers, estheticians, massage therapists and medical professionals looking to expand their spa and esthetic services.
ESI events are focused exclusively on owners, directors and professionals in the aesthetic, spa and wellness industries. Only companies pertinent to the industry are invited to exhibit at ESI shows. For more information about the show visit http://spashowusa.com/.
About Genesis Biosystems
Genesis Biosystems Inc., a certified ISO 13485 manufacturer, produces quality aesthetic and biomedical products, including Derma Genesis® Microdermabrasion Systems for medical grade microdermabrasion treatments, DermaFrac™ Dermal Micro-Channeling infusion systems, LipiVage® Fat Transfer Systems and the AccelaFuze™ Combination Therapy System. Visit genesisbiosystems.com or call (888) 577-7335 for more information.