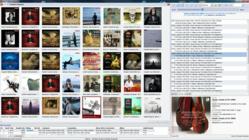 The album view of the MusiCHI Player
Marseilles, France (PRWEB) February 13, 2013
MusiCHI Suite, the 4-in-1 application (Library Manager, Tagger, Ripper & Player) dedicated to classical, jazz and other demanding music genres, has launched a new release. Many new features have been added to the MusiCHI Suite Version 3.5 fulfilling the wishes of audiophiles and music aficionados, having high standards for cataloging & playing digital music sources. Furthermore, a new product, MusiCHI Tagger has been added to the product line of the Suite.
New Product

The MusiCHI Tagger, which provides very powerful, yet easy to use tools to satisfy the novice and the most demanding user, is now offered as a standalone application with launching price of 19€. Equipped with many key features and advanced attributes that will help audiophiles to tag properly their audio files quickly and without manual effort, the MusiCHI Tagger uses three main external data sources to fetch data from: FreeDB, Amazon.com and GD3.
New features of the version 3.5
Player

A new "carrousel" covers view is available (for Albums or Compositions): Showing now as many pictures as one wants without having to page, just scrolling. Moreover, the user can sort the album covers in any order he may desire, for example: Period, Composer, Genre, Instruments or Date created, Audio specification or Genre, Artist etc. One can select many albums/compositions at a time (using the usual way of selecting used by Windows) to send their respective tracks to be played.
MusiCHI Tagger

Box set wizard: this new feature helps the user to create one folder per CD and move files accordingly then automatically upgrade the track count, CD number and CD count for each CD of the set, as well as the album name. To find out more, please visit MusiCHI Suite's blog: http://blog.musichi.eu/post/38613357347/the-box-set-wizard
In the data grid, the specifications of the album covers are displayed for each track (height & width in pixels and whether it is embedded) so the user can identify the low resolution pictures easily, hoping to find better ones (ideal size 500 to 700 pixels) on the net.
If one moves the mouse cursor over the current album cover, one can see its graphic specifications (size and whether it is embedded or not).
Auto selects the composers for which MusiCHI Suite has a composition catalog for the tracks loaded in the data grid.
Tagger and Ripper

A major improvement: A completely redone text processing utility to help the user to format its metadata, which is much easier to use than before and offers many more new powerful features. Most formatting actions can be saved, so they can be executed sequentially at a later point in time. At one's disposal now, a scripting language is now available for batch mode processing of the metadata. To find out more, look in MusiCHI Suite's blog: http://blog.musichi.eu/post/38527809503/how-to-use-the-new-cleaning-tags-aka-text-processing
The user can also query the reference database to find out the list of composers for which the Suite has the catalog.
Across the Suite

Two more custom fields, now totaling to six, which can be either from MusiCHI Suite, or mapped from other products, have been added.
In the Suite's reference database for classical music, MusiCHI Clean©®, in the integrated catalogs of the compositions of Bach, Beethoven, Brahms, Bruckner, Chopin, Debussy, Dvořák, Handel, Haydn, Liszt, Mahler, Mozart, Rachmaninoff, Ravel, Schubert, Schumann, Tchaikovsky and Vivaldi already available, Mendelssohn & Scriabin' composition catalogs have been added.
MusiCHI Suite can be downloaded through the website address: http://www.musichi.eu.