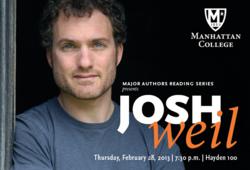 Riverdale, N.Y. (PRWEB) February 11, 2013
For the sixth consecutive semester, Manhattan College's English department will host the Major Authors Reading Series (M.A.R.S.), starting on Thursday, Feb. 28, with a reading by award-winning author Josh Weil.
Designed to engage and expose students to modern literature, M.A.R.S. has brought several notable writers to campus for readings and book signings since its 2010 launch. They include Pulitzer Prize winners Junot Diaz, Jennifer Egan and Claudia Emerson; National Book Award finalist Joshua Ferris; essayist Phillip Lopate; and Marie Howe, the current Poet Laureate of New York State.
Josh Weil is the author of the novella "The New Valley," which won the American Academy of Arts and Letters Sue Kaufman Prize and was named an Editors' Choice by The New York Times Sunday Book Review. Weil has been called "among the best of a new generation of writers" by the National Book Foundation, an organization that recently honored him with a "5-Under-35" designation. Weil's writing has appeared in Granta, One Story and The New York Times, and his novel "The Great Glass Sea" is forthcoming in early 2014. He served as a Manhattan College writing instructor during the 2005-2006 academic year.
According to the Times, "Weil meticulously imagines people and their histories, and presents them as a product of their places. This is perhaps the hardest thing for a fiction writer of any age, working in any form, to accomplish."
The M.A.R.S. series will continue this spring with readings by poet Iain Haley Pollock, winner of the 2010 Cave Canem Poetry Price, dedicated to the discovery of exceptional manuscripts by African-American poets; and poet/playwright/nonfiction writer Honor Moore, whose memoir The Bishop's Daughter was selected as a finalist for the National Book Critics Circle Award.
Below is the full schedule. All readings will be held in Hayden Hall, Room 100. They are free and open to the public.

Josh Weil, Thursday, Feb. 28, 7:30 p.m.
Iain Haley Pollock, Tuesday, March 26, 4:30 p.m. (This event will be funded in part by Poets & Writers, Inc. through public funds from the New York City Department of Cultural Affairs, in partnership with the City Council.)
Honor Moore, Wednesday, April 24, 4:30 p.m.
For more information about M.A.R.S. at Manhattan College, contact David Eye, visiting assistant professor of creative writing, at (718) 862-7921 or david(dot)eye(at)manhattan.edu; or
Adam Koehler, assistant professor of English, at (718) 862-7546 or adam(dot)koehler(at)manhattan.edu.
Media interested in attending should contact John Tucker at (718) 862-7232 or john(dot)tucker(at)manhattan.edu.