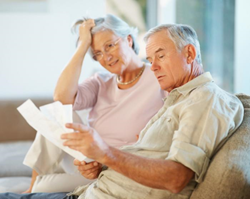 In some cases, Expats and non-domiciled individuals are able to transfer their pension assets abroad into a pension plan (e.g. QNUPS) that would have the benefit of not falling under the remit of HMRC for inheritance tax purposes
London, UK (PRWEB UK) 12 February 2013
Pryce Warner International Group– According to a press release issued by the Department of Health yesterday, a new cap of £75 000 on the cost of elderly social care is set to come into force in England from 2017.
The asset threshold has also been increased from £23 250 to £123 000. This means anyone with assets totaling over £123 000 in 2017 will receive no financial assistance for social care until the value of their assets falls below that level.
In practice this means many people will have to spend up to £75 000 on their own social care before they receive any government assistance. Prior to this announcement, the total cost was the sole burden of the individual, which meant those in care faced unlimited costs.
According to Mr Jeremy Hunt, the Health Secretary, the rationale for the change is to prevent the elderly from having to sell their homes in order to fund unlimited social care.
Mr Hunt commented: "This is a watershed moment for our country. For too long, the issue of social care has been ducked by successive governments, leading to an unfair system that has seen people selling their homes and losing nearly everything they've worked for to pay for their care. With us, that unfairness is ending."
According to the press release issued by the Department of Health, the £1bn cost of introducing these measures will be funded by a freeze on inheritance tax at the rate of £325 000 (double for married couples).
The freeze means that anyone whose assets are currently below the threshold but are linked to inflation, will be pushed into the inheritance tax bracket, as the inheritance tax threshold will not increase with inflation until 2019.
According to the Telegraph , this will essentially mean that thousands of families will now have to pay £95 000 in inheritance tax, despite no real-term growth in assets.
David Retikin, Director of Operations at Pryce Warner International Group, commented: "This change in law is a step in the right direction for the provision of social care in England but it has the unfortunate consequence of pushing thousands of people unfairly into the inheritance tax threshold. In some cases, Expats and non-domiciled individuals are able to transfer their pension assets abroad into a pension plan (e.g. QNUPS) that would have the benefit of not falling under the remit of HMRC for inheritance tax purposes. It is important to note however that such plans must be used as legitimate pension plans and are not tax avoidance schemes. Expats and non-domiciled individuals with assets over £325 000 or with assets that would likely increase in value into the £325 000 inheritance tax bracket over the next six years should immediately contact a financial advisor."