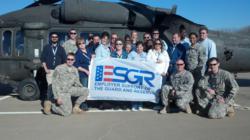 Spending time with the Guard and Reserve Soldiers from my local Houston community is a huge priority for me. -Steve Otero
Houston, Tx (PRWEB) February 11, 2013
Steve Otero, Security America Mortgage Inc. Public Relations Director, recently visited with U.S. Army Soldiers from Bravo Co. 1-149th Attack Reconnaissance Battalion, Hood Army Airfield, Tx courtesy of Employer Support of the Guard and Reserve.
ESGR, a Department of Defense agency, was established in 1972 to promote cooperation and understanding between Reserve Component Service members and their civilian employers and to assist in the resolution of conflicts arising from an employee's military commitment.
ESGR is supported by a network of more than 4,800 volunteers in 54 committees located across all 50 states, the District of Columbia, Guam-CNMI, the U.S. Virgin Islands and Puerto Rico.
Volunteers, hailing from small business and industry, government, education and prior military service bring a vast wealth of experience to assist in serving employers, service members and their families.
The Soldiers from Bravo Co. were training on simulators to maintain general proficiency requirements and stay ready for upcoming deployments.
"Spending time with the Guard and Reserve Soldiers from my local Houston community is a huge priority for me", said Steve Otero, Public Relations Director of Security America Mortgage Inc.
"These soldiers are another great example of how versatile our American fighting men and women are", said Otero, "by meeting with employers, soldiers have the ability to demonstrate their military capabilities to their civilian counterparts and supervisors."
The visit began with a series of informational briefings and presentations by various Soldiers from the 1-149th, and then a lunch of "MREs" or Meals Ready to Eat packaged items were shared with a smile by all of the participants, soldiers included.
Immediately following the lunch, a quick safety briefing and then all of the attendees boarded a UH-60 Black Hawk helicopter provided by Bravo Co.
Approximately 20 personnel were flown to Hood Army Airfield, spending an hour on the ground with the Soldiers there, touring CH-47 Chinook and AH-64 Apache Longbow helicopter flight simulator facilities.
The simulators purpose is to sharpen mission-critical skills of helicopter pilots and co-pilot/gunners. Aircrews will be able to fly in accurately represented cockpits—in a detailed visual environment filled with interactive threats.
The invite to the simulators and airfield allowed Otero to complete his first flight on a military aircraft, since becoming a civilian in March of 2012.
"It was a bit of a somber moment for me... I often miss the people I spent time with in these birds", Otero said. "I now have the opportunity to serve the community I left last year, only in a different fashion."
Security America Mortgage Inc., a VA mortgage bank, which provides VA home loans to active service members and military veterans, employs Otero.
A VA-guaranteed loan is a loan made by private lenders (such as banks, savings & loans, or mortgage companies) to eligible veterans. Length of service, character of service and type of service (Active, Reserve, Guard) are all factors considered when determining eligibility.
Security America Mortgage Inc. is a VA approved mortgage bank offering VA Home Loans in Houston and in 12 states throughout the country.