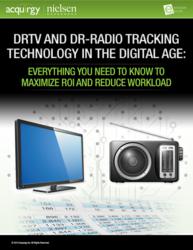 DR marketers expect and need real-time data to make smart marketing decisions.
St. Petersburg, FL (PRWEB) February 14, 2013
In the warp-speed world in which we live, where making real-time decisions has become the norm, it's critical to get immediate reporting to determine which commercials have run and which have not. No longer is it acceptable to wait weeks, even months, to get logs of aired commercials, both on TV and radio. This eBook gives you the basics about DRTV and DR-Radio tracking, including:

What is electronic tracking?
Benefits to DRTV and DR-Radio marketers
How does electronic tracking work?
Advantages of tracking
The Agency Perspective
James Vanek, Account Executive, Tracking Services, Nielsen, said, "DR marketers expect and need real-time data to make smart marketing decisions. Today's technologies accomplish that and ultimately lead to more successful customer acquisition programs."
Added co-author Irv Brechner, EVP Corporate Communications of Acquirgy, "From the agency perspective, knowing what commercials actually ran within a very short period of time clearly leads to better ROI and equally as important, a significant reduction in workload and paperwork."
The DRTV and DR-Radio tracking eBook is available at: http://NL3.acquirgy.net.
About Acquirgy
Acquirgy (http://www.acquirgy.com) is an Acquisition Marketing Agency developing and executing accountable marketing programs driven by immediate and measurable response metrics across all digital and traditional platforms. Proprietary tracking systems integrate all transactional media, logistic and response data from all platforms to optimize client profitability. Acquirgy's CustomerAcquisition IntelCenter (http://www.acquirgy.com/intel) offers 100+ papers, briefs, ebooks and more on proven best-practices tactics and strategies.