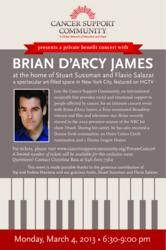 New York, NY (PRWEB) February 13, 2013
The Cancer Support Community will welcome Tony-nominated star Brian d'Arcy James to perform for a private benefit concert held in New York City at the private residence of Stuart Sussman and Flavio Salazar, a spectacular art-filled space, featured on HGTV.
Special performances by:
Brian d'Arcy James – Broadway star and multiple Tony, Drama Desk and Outer Critics Award nominee
When:
Monday, March 6, 2013
6:30 PM – 9:00 PM
Tickets:
$300 per individual ticket
$500 for two tickets
Tickets can be purchased at:
https://secure.blueskycollaborative.com/csc2/benefittickets.asp
Contact Christina(at)CancerSupportCommunity(dot)org or call
646.600.7564 for additional information.
Where:
The Home of Stuart Sussman and Flavio Salazar
West 17th St. and 9th Ave.
New York City, New York
About:
The mission of the Cancer Support Community (CSC) is to ensure that all people impacted by cancer are empowered by knowledge, strengthened by action, and sustained by community. In 2009, The Wellness Community and Gilda's Club joined forces to become the Cancer Support Community. The combined organization, with more than 50 years of collective experience, provides the highest quality social and emotional support for people impacted by cancer through a network of over 50 licensed affiliates, more than 100 satellite locations, and a vibrant online community, touching more than one million people each year.
Backed by evidence that the best cancer care includes social and emotional support, the Cancer Support Community offers these services free of charge to men, women, and children with any type or stage of cancer, and to their loved ones. As the largest, professionally led nonprofit network of cancer support worldwide, the Cancer Support Community delivers a comprehensive menu of personalized and essential services including support groups, educational workshops, exercise, art and nutrition classes, and social activities for the entire family. In 2011, CSC delivered more than $40 million in free services to patients and families. The Cancer Support Community is advancing the innovations that are becoming the standard in complete cancer care. So that no one faces cancer alone.
Like the Cancer Support Community on Facebook – http://www.facebook.com/CancerSupportCommunity