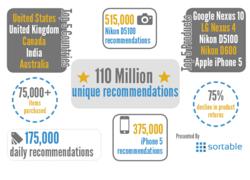 Customers using Sortable sites are better informed than the typical online or retail shopper
Waterloo, Ontario (PRWEB) February 12, 2013
Canadian tech trailblazer Sortable has reached another important milestone: Sortable's "decision engine" has provided 110 million product recommendations for online shoppers. Sortable helps people easily "sort" through a daunting sea of products to find the gadget that perfectly suits their needs and budgets. Because Sortable recommends the right product for each user, the company's retail partners have experienced a staggering 75 percent decline in product returns.
Sortable Inc. was founded in 2009 and has since released several successful websites, including one of the largest online camera gear sites, Snapsort.com, as well as Geekaphone.com, LensHero.com, and their flagship website Sortable.com.
"Customers using Sortable sites are better informed than the typical online or retail shopper," says Chris Reid, Sortable's co-founder and CEO. "Our technology allows you to quickly and easily discover the products that perfectly fit your needs, rather than relying on sales staff or advertising."
Sortable's core technology is a powerful, data-driven decision engine that intelligently scours and interprets product specs, reviews, prices and community feedback in a visual, user-friendly interface. Users can search for and compare related products in an unbiased medium, allowing them to find a product that perfectly matches any set of criteria.
Sortable plans to apply its decision-making technology to many new products and services this year, to help people make informed decisions that matter.
For more info go to: Sortable.com/110m
About Sortable: Sortable.com takes the pain out of buying. The company's decision engine improves customer satisfaction by providing personalized, informed product recommendations. Launched in 2012 after two years of development, the company has grown quickly and is one of the leaders in the decision engine space. Sortable is a Rebellion Media portfolio company.