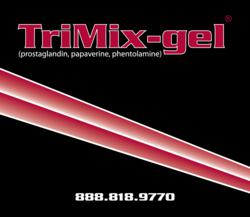 Eddie Glover, CEO, says "Our customers have been asking for something like TriMix-gel for some time and we are happy to add it to our services"
(PRWEB) February 13, 2013
TriMix-gel is the Newest Product in US Compounding Strategy
US Compounding, Inc. announced their extensive list of drugs and services will now include TriMix-gel®. TriMix-gel is an alternative treatment for the 20 million American men suffering with erectile dysfunction (ED).
TriMix-gel is not an herbal remedy. It contains medicine listed in the US Pharmacopoeia. The active ingredients in this compound have been tested and widely prescribed by physicians for many years. A patient would need to visit his doctor for a good faith examination and if appropriate, the patient will be prescribed the medicine by his own doctor. The doctor faxes the prescription to US Compounding at 800-448-6996. The pharmacy calls the patient for payment and shipping information. Then the Pharmacy ships the medicine directly to the patient. For more information, visit http://www.TriMix-gel.com.
Typically, trimix for injection would have to be refrigerated and then self-injected. But TriMix-gel allows the patient to carry this medicine on his person at room temperature. There is no need to carry an ice pack. More importantly, an ED patient will not have to use a needle to self-inject before sexual intercourse.
TriMix-gel is also different from Viagra type tablets because it uses a divergent medical pathway in helping create a positive result. For some patients who have failed on those type tablets, TriMix-gel has been used as a feasible alternative. To view a medical abstract on TriMix-gel clinical trials published in the Journal of Urology, click this link: http://TriMixgel.com/studies.html .
US Compounding CEO, Eddie Glover, said "Some men aren't happy with the pills and many others are reluctant to go the self-injection route. Our customers have been asking for something like TriMix-gel for some time and we are happy to add it to our services".
US Compounding is a PCAB Accredited™ compounding pharmacy established in 1995 that provides physicians and Veterinarians with medicine precisely customized for each individual patient. Compounds are tested by a DEA and FDA registered laboratory to ensure sterility and quality. US Compounding maintains federal and state licenses and is registered to dispense in forty nine (49) states. Visit http://www.USCompounding.com .
The information contained herein is general in nature and is intended for use only as an informational aid. It does not cover all possible uses, actions, precautions, side effects, or interactions of the products shown, nor is the information intended as medical advice or diagnosis for individual health problems. TriMix-gel has not been evaluated by the Food and Drug Administration (FDA) and is not made under GMP requirements. It is compounded in a licensed compounding pharmacy accredited by the Compounding Pharmacy Accreditation Board. The compound is for the use of an individual patient who has been prescribed TriMix-gel by a licensed physician. The information contained herein is not intended for making an evaluation as to suitability, risks or benefits. Before taking any action, consult your Physician.