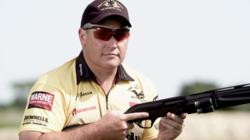 It was a very competitive and fantastic experience.
Grand Island, NE (PRWEB) February 13, 2013
Law enforcement officer and Team Hornady member, Keith Garcia, won the 3 Gun Nation Rumble on the Range, at Clark County Range in Las Vegas, NV on January 16, 2013. Garcia ranked third overall going into the match, and shot Hornady ammo in his rifle and pistol to win the $50,000 prize.
Shooting Hornady 115 grain HAP® bullets in his 9mm customized pistol, and Hornady 223 Rem 53 grain V-MAX in his JP Enterprises rifle, Garcia attributed his win to staying focused. "I visualized myself winning, despite the level of expertise in a very competitive field," Garcia said. In the finals, Garcia beat West Chandler, Burton Thompson, Taran Butler, and Barry Dueck.
Garcia had specific reasons for choosing Hornady ammo. "Hornady 115 grain HAP bullets have enough power to knock down the steel plates, yet shoot soft for accurate follow up shots," he said. "Hornady 53 grain V-MAX, produces a lot of velocity for shooting steel plates. It comes out very fast for quick reaction of the target, while still providing maximum accuracy."
Fellow Team Hornady member, Barry Dueck beat extremely tough competition, including Jerry Miculek, Adam Popplewell, Daniel Horner, and Greg Jordan to win second place and the $10,000 prize.
Dueck shot Hornady 147 grain XTP bullets in his 9mm pistol, and Hornady 53 grain Match hollow point bullets in his rifle. Dueck explained, "I knew I could rely on Hornady 147 grain to knock over the plate at the finish line, and Hornady 53 grain was ideal because of its low recoil with reliable cycling. One malfunction will finish you in a shoot-off at this level, so my ammo had to be the best."
Chad Adams, vice president of 3-Gun Nation was very pleased with the event, which included opening remarks by Oliver North, and country artist Mark Wills singing the national anthem. "We had 28 of the country's top 3-gun competitors battling for the highest cash purse in the sport," Adams said. "The athleticism and shooting skill on display in Las Vegas was off the charts. Then the final eight raced under the lights and you could feel the intensity. Keith Garcia was simply brilliant, claiming his first 3-Gun Nation Championship."
Team Hornady 3-gun competitors in the shoot off event included Adam Popplewell, Michael Voigt, Dianna Liedorff, Patrick Kelly, and Travis Gibson.
Founded in 1949, Hornady Manufacturing Company is a family owned business headquartered in Grand Island, Nebraska. Proudly manufacturing products that are made in the USA, Hornady Manufacturing is a world leader in bullet, ammunition, reloading tool and accessory design and manufacture.
For further information regarding Hornady products, visit the company web site at http://hornady.com. Media members interested in Hornady products for editorial review should contact Neal Emery at nemery(at)hornady(dot)com.