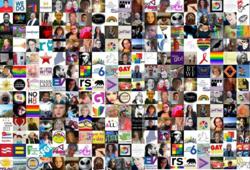 GayWeddingsForum.com Already Ranked # 2 in the World for best LGBT Outlet. Michael Jamrock -
South Florida (PRWEB) February 12, 2013
EnGAYgedWeddings.com has announce it's launching of the first of it's kind social media outlet, GayWeddingsForum.com. Co-Owner & Founder, Michael Jamrock, has said the response has been wonderful. Couples from all over the world, from Paris, Canada, Mexico, The UK, and even from countries like Pakistan and Iraq are signing up for the free wedding planning forum. The couples have access to create their own blogs, share photos, join groups and post their events.
Once the couple does get married they are welcome to post their wedding photos and have a safe haven to share their wonderful day with Friends, Family and the World.
Wedding Vendors find GayWeddingsForum.com a wonderful outlet to market their business and network with other Wedding Vendors to create their own "Preferred Vendor" lists. They can also join specific groups targeting their business type, like the "Photographers Group" or the "Officiants Group".
GayWeddingsForum.com also lists upcoming LGBT Events like the GLBT Expo in New York City, Disney's Gay Days and the Unique Valentine's Day Sleigh Ride Event in Connecticut. The forum also has lists of all the Pride Events and Parades.
GayWeddingsForum.com works similar to Facebook where you get a username and a password and can upload images, text, and chat with other members. It is also linked to EnGAYgedWeddings.com Pinterest Account, so couples can plan their wedding from Flowers to Dresses & Tuxedos to Cakes & Candy. Couples can browse by wedding theme, color, or by setting whether it is a beach wedding or a barn retreat.
For more information Contact Michael @ (561) 929-9929 or got to GayWeddingsForum.com