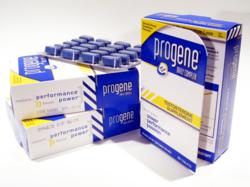 Men tend to get ignored on Valentine's Day," says Michael Lee of Progene. "We're giving women $20 towards helping their men feel more Power, Performance and Passion®!
Cincinnati, OH (PRWEB) February 13, 2013
What do men want? Easy... more Power, Performance, and Passion®. Give him all 3 this Valentine's Day with Progene®, the leading all-natural testosterone supplement, and take advantage of $20 towards this one-of-a-kind gift.
Because guys can be notoriously tough to shop for, Progene® has an exciting gift idea -- the gift of feeling younger this year, with Progene®.
Men can't help getting older, but they don't have to feel old. Progene® helps to increase testosterone levels with a unique, dual-action formula that contains clinically proven testosterone precursors and rare herbal extracts known to support the body's natural production of testosterone. Higher testosterone levels mean healthier – and happier --men. What man wouldn't want that for Valentine's Day?
Men lose their ability to produce testosterone as they age. Testosterone is a key hormone that controls the development and maintenance of masculine characteristics – and is necessary to keep men healthy and active. The Archives of Internal Medicine published a new study revealing that low testosterone may increase death risk in men over 40 – as well as 8 other major health risks that every man should know.
Unfortunately as critical as Testosterone is to a man, most have no idea what their testosterone levels are, or how much testosterone they have left. Unlike women, men view seeing doctors as a weakness.
According to Good Housekeeping's article, "A Healthier Husband", 'Many guys need a big – or little – nudge' to pay attention to their health, and this nudge comes from the wife or girlfriend. "One of the biggest obstacles to improving the health of men is men themselves," reiterates Dr. Rick Kellerman, Chair of the American Academy of Family Physicians.
Help guys find out how much testosterone they've lost with Progene®'s anonymous and painless, at-home testosterone test kit. Restore that special guy's strength, energy and motivation that may have been lost over time.
The Progene® Valentine Special can be used with any online order at Progene.com (except Free Trial). Valid through February 28, 2013, mention code VDay99 for $20 savings. Take advantage of Progene®'s Special Valentine offer and Progene® will even wrap your Valentine's box with a big red ribbon when you order!
"Men tend to get ignored on Valentine's Day," says Michael Lee of Progene. "We're giving women $20 towards helping their men feel more Power, Performance and Passion®!" Shopping for that special man? Look no further. Progene® has the answer.
Give the gift of Progene® and bring back that spark in your special Valentine this year!
About Progene®
Founded in 2003, Progene® lead this market when the company released the original supplement to address the decline of testosterone levels in men as they age. With over 20 million tablets sold, Progene®'s dual-action formula of rare herbal extracts and clinically proven testosterone precursors helps to provide men the ingredients they need to produce more testosterone.
Expanding its national distribution with the recent addition of Costco.com, the company continues to grow with the release of their At-Home Testosterone Test Kit. Now men can actually see for themselves what Progene® can do to help restore their Power, Performance & Passion®. Progene® is currently sold nationwide at all, GNC Stores, Rite Aid, USADrug, Drugstore, Sears Marketplace, Harris Teeter Groceries, Brookshire's Food & Drug and more than 150 other local and regional retailers.
For more information about Progene® go to Progene.com or Call 866-PROGENE