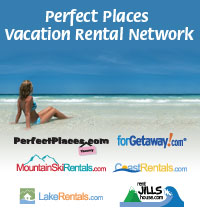 Perfect Places has been a pioneer in online booking for vacation rentals, completing its first online booking in 2006
Mountain Vew, CA (PRWEB) February 12, 2013
January turned out to be a big month for Perfect Places. Company President Rick Haggart reports an increase of 32% in online bookings for vacation rentals over January 2012. The January booking total also set an all-time record in online booking revenue for Perfect Places.
"Vacation rentals are off to a great start in 2013 and online booking allows more travelers to enjoy the unique experience vacation rentals offer," Haggart said. "The record results in January mirror the findings of our recent vacation rental marketing survey which showed property owners and manager had a better 2012 than 2011 and expected even better results in 2013."
Perfect Places has been a pioneer in online booking for vacation rentals, completing its first online booking in 2006.
"Since 2006, we have built an incredible inventory of over 40,000 properties that can be securely booked online using a credit card, and we have seen travelers embracing online booking in increasing numbers every year," Haggart said. "While online booking of vacation rentals seems like a "no brainer" given the trend we have seen for travelers booking hotels, it is just beginning to take off for several reasons."
Haggart said that each vacation rental is unique compared to relatively generic and standardized hotels. While this uniqueness is a great for travelers, he said it does lead to more questions prior to booking which in turn leads to more offline bookings over the phone.
In order to help answer questions travelers typically have prior to booking, Haggart said Perfect Places works with property managers to provide extensive information on the property, list all the features and amenities, provide numerous high-quality photos, and include guest reviews.
Haggart added that the technology required to complete an online booking is complex. Instead of providing real time interfaces with global distribution systems or a handful of huge international hotel companies, real-time quote and booking interfaces must be developed with a multitude of commercial and proprietary vacation rental software systems in use by property managers today.
"Fortunately, this is exactly what Perfect Places has been able to achieve and we are seeing the benefits now," Haggart said. "Our goal is to continue to push the envelope to make booking vacation rentals easier and safer than ever before and we are thrilled that 2013 if off to a great start."
About Perfect Places: Perfect Places offers nearly 60,000 vacation rental properties in more than 80 countries. Perfect Places operates a portfolio of vacation rental websites including PerfectPlaces.com, forGetaway.com, LakeRentals.com, CoastRentals.com, MountainSkiRentals.com and RentJillsHouse.com. Since 1996, Perfect Places has been a leading source for travelers looking for vacation rentals. Travelers can search for short-term rentals at Perfect Places websites for free. They'll find a wide assortment to choose from, including homes, condos, villas, cabins, bed and breakfasts and more.