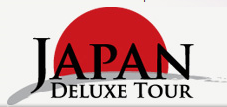 "At Japan Deluxe Tour, we pride ourselves in providing an immersive experience to our customers that will allow them to enjoy the sights and experience Japanese culture," said a Japan Deluxe Tour representative
(PRWEB) February 18, 2013
Japan Deluxe Tour, the premier full service Japan travel company, has debuted two new tours for the spring of 2013. The first of these tours, the Tokyo Anime Fair & Cherry Blossom Tour, will feature a guided Japan tour over seven nights at Tokyo's most popular Anime Fair in addition to seeing the towering Mt. Fuji, UNESCO's world heritage site in Kyoto, and much more. This tour is scheduled to depart on March 23, 2013. More information can be read online at: http://www.japandeluxetour.com/app/ptour_detail.php?ptour_id=375. Japan Deluxe Tour's second Japan tour will feature the Grand Takayama Festival along with a strawberry picking adventure. More details are forthcoming on this guided tour but it is scheduled to depart on April 7th, 2013.
"At Japan Deluxe Tour, we pride ourselves in providing an immersive experience to our customers that will allow them to enjoy the sights and experience Japanese culture," said a Japan Deluxe Tour representative. "Most of our staff members were born and educated in Japan and we design these tours using their expertise along with our customers' feedback. We could not be more excited to offer our customers new ways of travelling in Japan with these two new tours. We are looking forward to these future adventures."
Japan Deluxe Tour offers an incredible variety of carefully designed group tours, private tours, and even custom-designed tours. Each tour is full service in order to remove travelling stress. Everything is covered including flights, hotels, food, and, of course, an English-speaking guide to help immerse the traveler in Japan's culture.
About Japan Deluxe Tour
Since 1983, Japan Deluxe Tours has been providing thousands of customers exciting and authentic travel to Japan. Their mission: for guests to learn, feel, and experience as the locals do. With over 30 years' experience and a staff with unparalleled experience in Japan, Japan Deluxe Tour continues to build on that mission with an ever-growing list of tour offerings. Japan Deluxe Tour is licensed by the IATA and the ARC, and bonded in the state of California since 1983. For more information, please visit their website at http://www.japandeluxetour.com or call them at 1.800.AT.JAPAN.