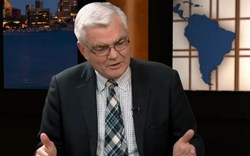 Riverside takes great pride in being one of the greenest cities in the country.
Riverside, CA (PRWEB) February 15, 2013
After 32 years of public service, Loveridge recently retired from being mayor of a city that was once known for its "smog alerts" to a city that is now known as an Emerald City. In a recent interview with Energy Independence Magazine Loveridge said, "Riverside takes great pride in being one of the greenest cities in the country."
Last year Riverside was a finalist in The U.S. Chamber of Commerce Business Civic Leadership Center and Siemens Corporations' Sustainable Community Awards. The city's Green Fleet was also named the "best" in North America at the fifth annual Government Green Fleet Awards and Expo. "We've come a long distance and have a way to go but I've often thought that Riverside needs to take leadership in being a green place."
Incentives the city offers to support its green efforts include the WRCOG HERO program, a partnership between Western Riverside Council of Governments and renovate America, Inc. to provide low interest rate financing for a variety of energy and water efficient products and renewable energy systems. Riverside also offers incentives on electric cars. Loveridge says, "It used to be that electric vehicles were in the laboratory, now they've gone to the storefront and we're trying to get them from the storefront to the streets. For plug-in vehicles we provide incentives of $2,500 if you buy your plug-in car from a Riverside dealer."
Solar energy is another way Riverside has gone green and the mayor sees great potential in the labor market for installation of renewable energy, like solar panels. The city is home to Sullivan Solar, Inc., a solar system integrator and NECA contractor that has an office, and renewable energy center. The company worked closely with the IBEW to ensure; one that the solar energy systems are installed correctly by professional certified electricians, and two; that these electricians come from the local labor market to help boost the local economy.
One of California's goals is to reduce the state carbon footprint by becoming more environmentally sound and preserving our natural resources. Going grid neutral isn't a challenge, it's an opportunity! It's an opportunity to lock in electricity costs providing financial predictability saving millions, and if structured properly it can all be done with little or no capital costs.
For More Information Contact:
Aimee Rios
info(at)eimag(dot)org