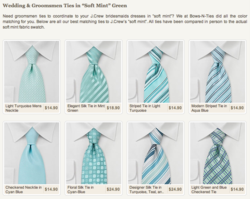 Put on a tie featuring one of these colors, and everyone around you will know that spring is on its way!
San Francisco, CA (PRWEB) February 12, 2013
Bows-n-Ties.com, an online specialty store for groom & groomsmen accessories just updated their wedding tie collection to compliment new spring and summer hues by one of the leading fashion and retail brands in the world, J. Crew.
"J. Crew is a household name at this point, thanks to years of smart marketing and brand management, and great design," says founder Hendrik Pohl. "It's important for us to align ourselves with brands that are known for putting out high-quality products, and J. Crew certainly fits the description. We've put a lot of work into building our collection to better complement the colors inherent in J. Crew's spring and summer pieces, and couldn't be more pleased with how things have turned out."
For spring and summer, J. Crew has added 11 new colors to their collection. Mercury grey, dried lavender and soft mint are just a few examples, as well as sunwashed aqua, deep violet and modern red.
"Each and every one of the new colors being utilized by J. Crew are highly evocative of spring and the warmer weather to come," says Pohl. "Personally, I'm partial to the 'soft mint' and 'sunwashed aqua' hues, although every color will work well for those who are trying to transition from the deep, somewhat drab colors of winter to a new, brighter look. Put on a tie featuring one of these colors, and everyone around you will know that spring is on its way!"
In addition to pairing some of their existing 4,000 ties to J. Crew's new colors, Bows-n-Ties.com worked in close collaboration with two top tie designers to create a dozen new styles/ties to perfectly compliment the new hues. The result is an expanded collection of ties that not only fit perfectly with J. Crew's hues, but work exceptionally well on their own and are perfect for everyday wear.
"We could probably have achieved what we were aiming for by choosing ties we already had in our collection to complement these swatches, but that would have been taking the easy way out," says Pohl. "Instead, we worked tirelessly in conjunction with some of the best designers in the industry to ensure that the ties we chose as pairings were perfectly matched to J. Crew's new colors. It just goes to show that Bows-n-Ties is the number one resource in the industry for wedding and groomsmen ties.