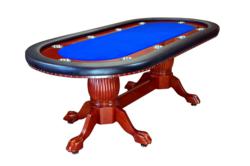 BBO Poker Tables positions us to accommodate consumers who are looking to outfit a game room or home bar with additional entertainment options.
Ballwin, MO (PRWEB) February 11, 2013
Internet retailer Goedeker's continues the expansion of their furniture selection through the addition of poker tables from Pittsburg, California based BBO Poker Tables.
"A professional poker table adds flair to a home poker game and keeps things neat, since most of our tables have marked spaces for chips, cards, and even drink holders," said George Chao, founder of BBO Poker Tables.
Goedeker's now offers BBO Poker Tables capable of accommodating up to nine players. Tables are available in a variety of colored surfaces, including blue, green, red, and black. BBO Poker Tables include jumbo cup holders, ball-and-claw hand-crafted pedestal legs, and premium leather vinyl. Removable playing surfaces allow the user to change surface colors or replace damaged parts.
The BBO Poker Tables launch on Goedekers.com marks the company's first offering for this type of furniture. "We've offered some of the best deals on living room, dining room, and bedroom furniture for years," says CEO Steve Goedeker. "BBO Poker Tables positions us to accommodate consumers who are looking to outfit a game room or home bar with additional entertainment options."
In addition to stand-alone tables, Goedeker's offers a selection of dining sets from BBO Poker Tables. These sets include a table with a dining cover and dining chairs. These additions make the poker table a beautiful "every day" addition to any home that can be changed quickly into a casino-style poker table for friendly games.
As with all furniture, Goedeker's offers free shipping inside the continental United States on all BBO Poker Table furnishings.
About BBO Poker Tables
The mission of BBO Poker Tables is to provide quality professional casino grade poker tables, home and tournament folding poker tables, and gaming tables to the public. The company places a high value on product quality, customer service, prompt delivery, innovative designs, and scalability. All BBO Poker Tables products are backed with the industry's best warranty. Outstanding customer service is a priority and BBO Poker Tables strives to maximize efficiency in all aspects of the company. BBO Poker Tables monitors important industry trends and adapts their designs to meet the changing needs of the market. By implementing a scalable manufacturing process, BBO Poker Tables can build one customized table for a consumer or 100 unique tables for a casino.
About Goedeker's
Goedeker's is a family owned and operated home goods retailer located in the St. Louis, Missouri, suburb of Ballwin. First established in 1951 as an electronics repair shop, Goedeker's has grown to be one of the largest, most trusted independent retailers of home appliances, furniture, mattresses, and plumbing supplies online. For more information, visit http://www.goedekers.com/.