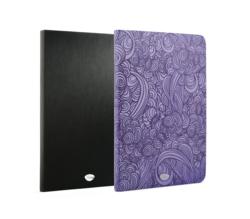 Toronto, Ontario (PRWEB) February 12, 2013
iSkin, a premium brand of fashion and technology lifestyle accessories, is introducing the new vibes (swirl edition) and aura folios for the iPad mini today.
The iSkin vibes (swirl edition) folio for iPad mini fuses light and dark tones featuring a printed pattern atop a reflective nylon fabric. The design is on-trend, timelessly glamorous and provides owners with the perfect combination of protection and personalization.
Also released is the iSkin aura folio for the iPad mini delivering pure sophistication in a tailored, sculpted package. Its sleek brushed aluminium nylon exterior and microfiber-lined interior combine for a secure way to carry the iPad mini safely and stylishly.
For convenience, both folios help conserve battery life by featuring a smart cover that automatically controls wake/sleep functionality when opened and closed. Both editions feature an integrated multi-angle media stand with full access to all controls and ports. An internal hard plastic case secures and helps to protect the iPad mini against accidental drops.
The vibes folio (swirl edition) for iPad mini is available in dual shade color combinations of black, purple and beige. The aura folio comes exclusively in a black, brushed aluminium finish.
Both folios are offered at iSkin.com for $49.99 USD and at select retailers.
About iSkin Inc.
iSkin Inc. has been one of the world's most trusted mobile accessory brands since its first advanced protective solution for the iPod® in 2002. Known for its cool, innovative designs and fashion-forward style, iSkin continues to be the leading mobile accessory brand. iSkin continues to focus on delivering the highest quality, innovative design and fashion-forward style in accessories for Apple®, BlackBerry® and now Samsung®.
The iSkin word mark and logo are registered trademarks of iSkin Inc., registered in Canada, the United States and other countries. All Rights Reserved 2006-2012.
Apple®, iPad® and iPad® mini are trademarks of Apple Inc., registered in the U.S. and other countries. Other company and product names mentioned herein are registered trademarks of their respective companies.
For further information contact:
Press(at)iSkin(dot)com
http://www.twitter.com/iSkin
http://www.facebook.com/myiSkin