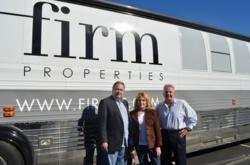 I caution my clients that quality listings are selling quickly and if you see a home that you really want, don't wait to make an offer or it could be gone
Scottsdale, Arizona (PRWEB) February 14, 2013
Ken and Lori Krichbaum of Lake Tahoe snapped up a Scottsdale, Arizona townhome the first day it was listed this winter and are looking forward to spending at least several months a year in the desert. They had toured 20 homes in the days before and knew once they saw this particular property, located in the tony neighborhood of DC Ranch, that it was the right fit for them, even though they didn't expect to purchase on a home on this scouting trip.
A year ago, the Phoenix metro area will still plagued with a glut of foreclosures and was steeped in a real estate recession that began in 2007. "It's like someone turned on the light and the market went from troubled to vibrant in a matter of a few short months," said Jeffrey Smith, president of Firm Properties in Scottsdale. "With the winter visitors enjoying the desert climate we are seeing strong demand, especially in the second home buyer," said Smith.
The Krichbaum's were shuttled around Scottsdale in the Firm Properties luxury motor coach, accompanied by Smith. "It was certainly an unusual way to tour homes, but a lot of fun," said Ken Krichbaum, a retirement planner. "And, since he didn't have to drive, it gave us a chance to get to know Jeffrey better as we were touring and he had the time to really learn about us and our housing preferences," added Lori Krichbaum.
The couple's purchase is a sign of how the real estate market has recovered. "Good homes are selling quickly, and sometimes above list price," said Jeffrey Smith. In fact, the Krichbaum's full price home purchase had a backup offer of $12,000 above list price, according to Smith.
Phoenix metro median resale home prices increased 34 percent in 2012, according to published reports. "We are absolutely seeing consumer confidence in Scottsdale home buyers and sellers. I caution my clients that quality listings are selling quickly and if you see a home that you really want, don't wait to make an offer or it could be gone, "said Smith, a real estate and mortgage industry veteran who launched Firm Properties last year.
Firm Properties is located at 8937 E Bell Road, suite 100, Scottsdale, just east of the Loop 101 Freeway. http://www.firmre.com. Phone: 480-951-8000.
Firm Properties, LLC is a privately held real estate brokerage located in Scottsdale, Arizona. The company embraces a value system of professionalism, integrity, experience, authenticity, confidence, values, social responsibility, character and passion. Customer service is paramount at Firm Properties. It offers a concierge service for its buyers, sellers and agents, and delivers a superior compensation system for its agents.