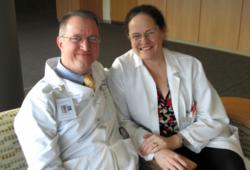 We haven't worked in the same hospital together since medical school.
Williamsport, PA (PRWEB) February 13, 2013
Workplace collaboration among physicians is seen as vital to effective patient care. At Susquehanna Health, such partnership is exemplified by the 10 married couples serving as physicians throughout the health system.
Susquehanna Health Vascular Surgeon Dr. Eric Adams and his wife, Neurologist Dr. Kristin Adams, met, courted, became engaged and were even married while attending medical school. "We were in the same class in medical school, so we had the same courses together," said Kristin. "I sat in the front row and Eric sat in the back row, but we had the same circle of friends and liked the same kinds of activities."
The couple said they worked together on a project on the Krebs cycle in biochemistry class and began dating during their second year of medical school. On a particularly notable day in their fourth year of medical school, they had taken their national board exams and were preparing to go out that evening with friends. "Eric, unbeknownst to me, wanted to be sure that we got to a restaurant—not just because it was my birthday, but because he wanted to propose," explained Kristin. "I figured something was up when he arrived in a three-piece suit."
Three weeks before medical school graduation the Adams tied the knot. While Eric applied to military programs, Kristin submitted applications for positions in the same cities. The couple moved to San Antonio, Texas to begin their medical residencies (Eric at Brook Army Medical Center and Kristin at the University of Texas Health Science Center). In the years that followed, Eric's service in the U.S. Army relocated the couple and their growing family to Fort Bragg, NC, Augusta, GA and Washington, DC. In June 2011, Eric retired from the military.
"So, we had all sorts of options," Eric explained. "We could have gone anywhere." Because Eric is a Pennsylvania native and Kristin grew up in Massachusetts and both had attended medical school in Pittsburgh, the couple began seeking opportunities in the state of Pennsylvania. A position became available for Eric with Susquehanna Health's Heart & Vascular Institute and Kristin was delighted to be offered a part-time position in Neurology. "We had worked in bigger cities and were looking for a smaller city in which to live and work. Williamsport has a lot more to offer than some of the larger places we've worked in terms of cultural offerings," explained Eric. "It is also the best road biking area in the world, as far as I am concerned."
The Adams have two sons and two daughters ranging in age from 19 to 7. Their oldest son attends college in New York and the other three children attend schools in Williamsport. In their free time, the family enjoys downhill skiing, hiking, biking and attending cultural events. "A lot of our activities support our children and involve driving them to their activities," Kristin explained.
Both doctors are pleased with the way in which they have been welcomed into the community. "Coming from sort of an academic center at Walter Reed, I've been really delighted with how people (the doctors and nurses) relate here in the hospital. I think it's true of most academic centers that people end up in their own silos and rarely interact in meaningful ways outside their specialty," Eric said. "That is certainly not the case here. It has been a delight in terms of when you see people in the hallway and share common patients. It's much better for patient care and a much more relaxed atmosphere." Kristin holds the same sentiment, "It is very easy to get to know people here. The doctors' lounge is a hotspot for seeing people and exchanging ideas and following up on patients."
Practicing medicine at Susquehanna Health has even afforded opportunities for these two doctors to work more closely together as colleagues. "I saw a patient the other day with an abdominal aortic aneurism, so I was able to pick up the phone and talk with Eric about it and he scheduled the ultrasound and will see the patient soon," said Kristin. "We haven't worked in the same hospital together since medical school. It is nice that our offices are down the same hall. We even got together today for lunch."
Similar collaboration is common throughout the health system as Dr. Eric Adams and Dr. Kristin Adams are just one set of at least 10 married couples working as Susquehanna Health physicians. Other physician couples include Dr. Daniel Glunk, Internal Medicine/Chief Quality Officer and Dr. Margrit Shoemaker, Endocrinology; Dr. Sai Sajja, Vascular Surgery and Dr. Renuka Kakarala, Internal Medicine; Dr. Robert Donato, Obstetrics/Gynecology and Dr. Ingrid Ockenhouse, Internal Medicine; Dr. David Finn, Family Medicine Residency and Dr. Martha Finn, Nephrology; Dr. Shabbir Esaa, Radiology and Dr. Durriya Esaa, Ophthamology; Dr. David Borys, Pathologist and Dr. Susan Borys, Internal Medicine; Dr. William Somers, Gastroenterology (retired) and Dr. Nancy Story, Family Medicine; Dr. Puneet Gupta and Dr. Lalita Mittal, Hospitalists and Dr. Fahmi Rahman and Dr. Ishraque Shawon, Hospitalists.
About Susquehanna Health
Susquehanna Health is a four-hospital integrated health system including Divine Providence Hospital, Muncy Valley Hospital, Soldiers & Sailors Memorial Hospital and Williamsport Regional Medical Center located in northcentral Pennsylvania. Serving patients from an 11-county region, Susquehanna Health is a healthcare leader and has been recognized at the national and state levels for quality of care. Susquehanna Health offers a wide array of services that include cancer care, heart and vascular care/heart surgery, neurosciences including neurosurgery, orthopedics, urology, OB/GYN, gastrointestinal services, behavioral health, physical rehabilitation, home care, long term care, assisted living and paramedic/ambulance services.