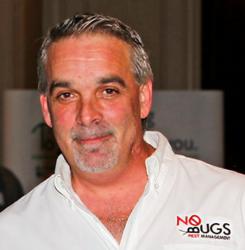 "Temprid worked so well for me in this infestation that I decided that I wanted to use it religiously," Dunlap said. "I'm a one-man operation, and I need to have the best chemicals I can buy. Right now, Temprid from Bayer is my liquid product of choice."
RESEARCH TRIANGLE PARK, N.C. (PRWEB) February 12, 2013
Robert Dunlap, owner of No-Bugs Pest Management in Monroe, Ohio, has been announced as the Bayer Temprid Save the Day Contest Winner. Environmental Science, a division of Bayer CropScience LP, called upon PMPs last summer to share triumphant stories of instances when they saved the day by tackling a pest problem using Temprid® SC Insecticide. Following two months of online voting by PMPs across the country, Dunlap has been declared the contest winner and recipient of free Temprid® and an all-expense-paid trip for four to Las Vegas, a much-deserved vacation for providing such a critical and exceptional service to his customers. Dunlap received the highest number of votes for his story when he provided treatments at no charge for a blind couple living with thousands of bed bugs.
Norman Barclift, General Insect Control Product Manager at Environmental Science, is happy to announce Dunlap as the contest winner.
"Robert shared an incredible story with us and his peers about a time when he certainly saved the day, donating his time for members of his community," Barclift said. "We're extremely proud to offer a product and platform that has allowed him to provide results and complete customer satisfaction."
"I am thrilled to receive this award from my industry peers and want to thank all PMPs who contributed their votes to the contest," Dunlap said. "It was an honor to represent my business and devotion for this industry, along with the other finalists who shared their compelling stories and passions for helping their communities live pest free."
Dunlap's story of success comes from a visit to the home of a blind couple who had been suffering from a severe bed bug infestation and lack of effective treatment. Using Temprid®, Dunlap was able to successfully treat and rid the couple's property of bed bugs, eliminating the non-stop bug bites and giving them peace of mind. He provided the services to the couple at no charge—a gesture he strives to achieve at least once a month for a local home or business owner in great need of a pest control treatment.
"Temprid worked so well for me in this infestation that I decided that I wanted to use it religiously," Dunlap said. "I'm a one-man operation, and I need to have the best chemicals I can buy. Right now, Temprid from Bayer is my liquid product of choice."
Bayer CropScience is committed to bringing new technology and solutions for agriculture and non-agricultural uses. For questions concerning the availability and use of products, contact a local Bayer CropScience representative, or visit Bayer CropScience online at bayercropscience.us.
Bayer, the Bayer Cross and Temprid are registered trademarks of Bayer.
About Bayer CropScience
Bayer is a global enterprise with core competencies in the fields of health care, agriculture and high-tech materials. Bayer CropScience, the subgroup of Bayer AG responsible for the agricultural business, has annual sales of EUR 7.255 billion (2011) and is one of the world's leading innovative crop science companies in the areas of seeds, crop protection and non-agricultural pest control. The company offers an outstanding range of products including high value seeds, innovative crop protection solutions based on chemical and biological modes of action as well as an extensive service backup for modern, sustainable agriculture. In the area of non-agricultural applications, Bayer CropScience has a broad portfolio of products and services to control pests from home and garden to forestry applications. The company has a global workforce of 21,000 and is represented in more than 120 countries. This and further news is available at: press.bayercropscience.com.
Contact:
Bayer CropScience Media Hotline, 1-877-879-6162
USA-BCS-2013-0012
Find more information at http://www.bayercropscience.us.
Forward-Looking Statements
This release may contain forward-looking statements based on current assumptions and forecasts made by Bayer Group or subgroup management. Various known and unknown risks, uncertainties and other factors could lead to material differences between the actual future results, financial situation, development or performance of the company and the estimates given here. These factors include those discussed in Bayer's public reports which are available on the Bayer website at bayer.com. The company assumes no liability whatsoever to update these forward-looking statements or to conform them to future events or developments.