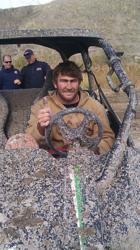 "Don't ever let people tell you what you can or can't do," says Tanner Godfrey. "Just live life. Don't let things slow you down. You have to be tough to be successful.
Mesquite, Nevada (PRWEB) February 13, 2013
Some of the first words out of Tanner Godfrey's mouth shortly following his crash during a Thanksgiving weekend Motocross race in 2007 in Mesquite were: "What your mind can conceive, it can achieve." The quote, which he remembers reading shortly before the crash, was in response to doctors who told him that he would never walk again due to the severe injuries he sustained to his spine. But since that time, Godfrey has taken steps without the aid of a cane and he created a control system that allows him to operate off-road vehicles including a Wildcat 1000 UTV (Utility Terrain Vehicle) from Arctic Cat and sponsored by Edge Powersports. He will attempt to jump the Wildcat over a 100-foot+ gap on February 22, 2013, at 7:30 PM, on a jump erected at the Eureka Casino Resort as part of the festivities for Mesquite Off-Road Weekend in Mesquite, Nevada. The attempt is to set a new Guinness World Record for the longest UTV Jump ever officially documented. The previous record is 47 feet held by Junior Quisquis set in 2009 in California. Tanner will look to more than double the current record.
Much like the obstacles in his everyday life, Tanner expects to conquer the jump.
"I never had any doubts that I would walk again," says Godfrey, whose father crashed in the exact same spot 24 hours prior to his 2007 wreck. "I didn't listen to any of the doctors and had faith in myself to overcome this. I am not all the way back but the journey continues, and I make progress every day. I graduated from high school in 2007 and felt like I was untouchable, but if something like this is going to happen, it's going to happen. I am still very active and have adapted and learned to do things without the full use of my legs."
"Tanner is a real inspiration," said Andre Carrier President of the Eureka Casino Resort, host of the jump and the weekend festivities. "The more I learned about him and his story, the more I was reminded of the service men and women we work with at the Wounded Warrior Project and how psyched they would be to learn about what Tanner is doing. The wars of the last ten years have left thousands of warriors with multiple injuries, including spinal cord injuries and loss of mobility. To call attention to their sacrifices and to aid in their recovery, the Eureka will donate $25 for ever foot that Tanner jumps to the Wounded Warrior Project and match dollar for dollar all the pledges the fans make on the day of the jump."
Godfrey is a free spirit who still maintains supreme confidence—and a sense of humor—about his situation and the impending jump attempt. "If you make it, you land good; and if you don't, you crash good," says Godfrey with a chuckle. "It could go really well or it could go really poorly; but it will go very well, now having the jump raise money for the Wounded Warrior Project makes it all the better." The idea for this jump came about when the guys from Nitro Circus built a similar ramp in my hometown of Salt Lake City, Utah, for a scene in the Nitro Circus where they would jump a trophy truck over it. During a break in the filming, and for the fun of it, I decided to jump it in my Wildcat. It's a thrill to be asked to do this during Mesquite Off-Road Weekend. The fans will love everything about it."
The jump attempt is on Friday evening gates open at 6:00PM, and comes one day ahead of the Nitro Circus: Beyond Pro event planned for Saturday night as the headliner of the Nitro Enduro Challenge race that was the brainchild of Gregg Godfrey and Bryan Green of Edge Powersports. All ticket and other information is available at http://www.MesquiteOffRoad.com.
Tanner Godfrey is utilizing a special pole system to operate the accelerator and braking system during the jump. In the months following his crash, he and his grandfather, Dick Godfrey, came up with the system which—along with his positive attitude--has allowed Tanner to stay very active in his day-to-day life.
"Don't ever let people tell you what you can or can't do," says Tanner. "Just live life. Don't let things slow you down. You have to be tough to be successful. And if things go wrong, you have to jump right back on the horse and continue. You can't let circumstances stop you because if you do, you'll always have regrets."
About Tanner Godfrey: Tanner Godfrey was born March 18, 1989, and lives in Salt Lake City, Utah. He attended Alta High School where he was a wrestler. He also competed in motocross events. Tanner is available for phone interviews and/or certain in studio or on location appearances upon request.
About Mesquite Off-Road Weekend: Sponsored by the Mesquite Resort Association in Mesquite, Nevada, this off-road event will include two days of riding, with 5 ATV/UTV, jeep and side by side rides, covering the most scenic trails in the Southwest Area and the Nitro Enduro Challenge Races taking place on 100 acres of rugged desert dirt next to the Eureka Casino Resort. It will be great fun for the whole family! There will be a vendor area with food, drink and entertainment in the PowerSports Plaza, a Guinness World Record Jump attempt, and plenty of activities to keep everyone entertained. The VIP party Friday night will be one not to miss. The highlight of weekend will be the "Beyond Pro" exhibition race by Nitro Circus. Mesquite is easy to get to and located just off Interstate 15. From I-15 North or South, take exit 122 on to Pioneer Blvd. Turn right on Mesa Blvd and park at the Eureka Casino Resort. Special hotel room deals and rates are available for Mesquite Off-Road fans and participants.
There are two options for Mesquite Off-Road Weekend tickets. General Admission tickets give you 2-day access to the Nitro Enduro Challenge races AND the Nitro Circus "Beyond Pro" show plus the jump attempt in addition to access to the Powersports Plaza. VIP tickets get you into the VIP party on Friday night with Nitro Circus doing an exhibition show and the jump attempt. It also allows 2-day access to nearly 100% of the course and viewing from many locations for the Nitro Enduro Challenge races, the Nitro Circus "Beyond Pro" show, and access to the Powersports Plaza. Tickets range from $20-99.
For all information and to purchase tickets, visit http://www.MesquiteOffRoad.com . Follow on Twitter: @MesquiteOffRoad and Like on Facebook: h ttps://http://www.facebook.com/mesquiteoffroad Additional public information available at 702-345-4749 or Info@mesquiteoffroad.com
Media accommodations are available and interview requests for organizers/participants considered.
About Eureka Casino Resort: Family owned and operated since 1997, the Eureka Casino Resort is a newly renovated, 214-room resort located in Mesquite, Nevada. Eureka Casino Resort is a longtime supporter of the Wounded Warrior Project having hosted events including a Wounded Warrior Dream Wedding and Andre Carrier, President and COO of Eureka, is the founder of Christmas Can Cure, an organization that provides dream Christmas holidays for Wounded Warriors and their families. The hotel recently renovated each guest room, and built a resort pool and cabana with scenic views of Mesquite's red-topped mesas. The casino is designed for guest comfort and features slot and video poker machines; table games include blackjack, craps, roulette, and more. The casino has Mesquite's only 24-hour poker room with a race and sports book. The Eureka offers three full service restaurants: Experience: The Buffet, Mesquite's largest and only live action buffet; The Mason Street Courtyard; and Eureka's signature restaurant, Gregory's Steakhouse. Eureka hosts weddings, corporate gatherings, and golf groups in its newly remodeled Grand Canyon Ballroom, Aquarium Meeting Room, and other meeting venues. Additional information is available online at http://www.EurekaMesquite.com.