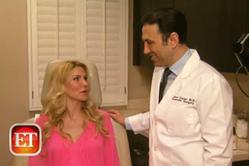 Los Angeles, California (PRWEB) February 11, 2013
During a recent Entertainment Tonight appearance, Dr. Simon Ourian, Medical Director of Epione Beverly Hills, performed hand rejuvenation treatments on Real Housewives of Beverly Hills star Brandi Glanville. (go to: goo.gl/oLs3j)
Youthful looking hands have skin that is full and smooth, without age spots, sun damage or wrinkles. As one ages, the veins on the hands may become discolored and pronounced. Dr. Ourian has developed a treatment regimen to address these issues, a combination of cosmetic procedures that enhance the youthful appearance of one's hands.
"I combine two relatively simple procedures," says Dr. Ourian, "to give the patient's hands a more youthful appearance. I inject a dermal filler to plump up the skin. Then I use Coolaser, a laser resurfacing technique that I developed, to treat any discoloration, sun damage, and age spots."
Radiesse is a dermal filler composed of calcium hydroxylapatite (CaHA) microspheres that are suspended in a water-based gel carrier. Following the Radiesse injections, the laser skin resurfacing Coolaser treatments usually take only 10 to 15 minutes. When the laser treatments are completed the skin is coated with a healing ointment developed by Dr. Ourian especially for his Beverly Hills clientele.
"I've often heard that the eyes are the windows to the soul," says Dr. Ourian, "but even to a layperson the hands will give away one's age every time. Many of my patients have seen improvement in the visual signs of aging with the hand rejuvenation regimen of laser skin resurfacing and dermal filler injections I developed."
Dr. Ourian has been a pioneer in laser technology and non-invasive aesthetic procedures including Restylane, Botox, Juvéderm, Radiesse and Sculptra. These treatments are used for the correction or reversal of a variety of conditions such as acne, acne scars, skin discoloration, wrinkles, stretch marks, varicose veins, cellulite, and others. More information about hand rejuvenation can be found on their website.