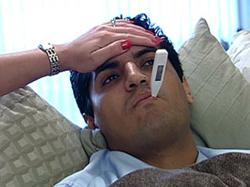 Novi, MI (PRWEB) February 12, 2013
Influenza attacks five to ten percent of the population each year in the United States. As the flu season lingers, it is necessary for organizations to prepare for pandemics as well as high absenteeism. The flu virus is easily spreadable through the air, merely by sneezing, coughing, laughing and even talking. Mastery Technologies' online training, "Pandemic Preparedness," and "Five Things You Need to Know about the Flu," provides tips on preventive measures to keep your workplace flu-free.
Recognizing how daily operations will be affected with a lot of absent employees in the workplace is extremely important. Though mentioned often throughout the media and internally through organizations, preventive actions are the best way to prevent the spread of the flu virus. Using the training course, "Five Things You Need to Know about the Flu" for employee awareness is imperative in maintaining productivity in an organization.
Common sense techniques like hand-washing, drinking plenty of fluids, getting six to eight hours of sleep and moderate exercise are simple ways to promote and maintain the body's self- defense against the Flu virus.
The "Pandemic Preparedness" training course relays the Homeland Security Council's development of the National Strategy for Pandemic Influenza Implementation Plan, which helps guide organizations in preparing in and dealing in case of a pandemic. The Implementation Plan defines five response areas to be aware of:
1. Be prepared; take preventative actions such as know how the facility deals with high absenteeism, set up a priority ranking for routine work activities, and provide extensive cross-training in advance
2. Be aware; expect coworkers to stay home when ill, especially during the flu season
3. Don't pass it on; self-hygiene is the best defense against catching and spreading germs
4. Keep distance; minimize physical contact with others
5. Help the community; keep alert by reading and finding up-to-date materials on illness prevalence in the community
The spread of illnesses is inevitable, but having an informed and knowledgeable staff helps maintain productivity and minimize the effects of the hard-hitting flu season. Make sure to keep employees informed of preventive steps and common practices to keep themselves as well as the workplace a healthier and safer one.
About Mastery Technologies Inc.
Mastery Technologies, founded in 1974, has partnered with leading video content providers to co-produce the largest interactive multimedia training library available to the workplace health, safety and environmental marketplace. Today, Mastery is extending their model to encompass all areas of workplace training. Mastery has helped thousands of companies develop greater competency and have created safer and secure workplaces. By expanding the scope of training Mastery believes it can enhance customer benefits, and help build more successful and effective organizations. Mastery's ultimate vision is to help reach every working individual with quality training.