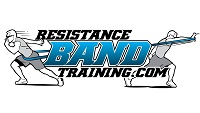 Elizabethtown, KY (PRWEB) February 12, 2013
Resistance Band Training Systems is now running a promotional sale on its Resistance Band Certification, according to owner Dave Schmitz. The product goes on sale today and will remain on sale through this Friday night at Midnight EST.
Created by Schmitz to help personal trainers gain a certified level of proficiency in resistance band training methods, the certification program can be purchased through Schmitz's website, ResistanceBandCertification.com.
"Over the past few years we've seen a number of training tools enjoy their moment in the sun," Schmitz says. "Some have merit, while others are nothing more than gimmicks designed to make the creators a quick buck. But none of these training tools can equal the combined benefits of quality flat continuously looped elastic resistance bands."
Schmitz, known as the "Band Man" to his clients and many in the fitness community, first gained exposure to resistance bands as a physical therapist in Wisconsin. In these initial years, Schmitz, like many other physical therapists, merely used bands as a tool for injury rehabilitation.
Ultimately, Schmitz discovered that the health benefits of training with exercise bands went beyond recovery. Indeed, he began to train clients of all ages for sports performance and fat loss.
"I discovered that flat resistance bands could be used to harness the properties of the physical forces of gravity, allowing for a training experience you just cannot get with the kinds of weights you might find in a weight room," he explains.
Ever since committing to resistance bands as a full time training tool, Schmitz has become one of the most prominent names in the fitness industry. Recently named among the 100 Most Influential People in Health and Fitness, Schmitz has become the world's foremost resistance band training expert.
With his Resistance Band Certification, the workout band expert hopes other personal trainers can make use of the power of resistance band training.
"You can use continuously looped resistance bands to improve athletic speed, agility and power," says Schmitz. "Not only that, but you can help them to burn fat and train anywhere and at any time through working out with resistance bands."
The certification comes with a 200 page educational manual covering topics concerning how trainers can make use of resistance bands in their workout programs.
Among the topics covered in the manual include setting up resistance band workouts, performing dynamic stretching and stabilization to maximize results, and full body workout guidelines.
In addition to the manual, trainers will receive 7 DVDs that will demonstrate to them how to best use resistance bands for athletic and fat loss training.
"This certification program will help you as a trainer learn how working out with resistance bands can change the lives of your clients forever," Schmitz concludes.
The Resistance Band Certification program is now available for $100 off the retail price. The sale starts today, but only runs through this Friday at Midnight EST.
For more information, visit: http://resistancebandcertification.com/
About Dave Schmitz: Dave Schmitz is the Co-Owner of Resistance Band Training Systems, LLC and the creator of http://www.resistancebandtraining.com, the only website exclusively devoted to training with large continuously looped resistance bands.
Resistance Band Training Systems, LLC is part of the Fitness Consulting Group family of companies. It is the leading resource for resistance band training. RBT offers education on resistance band training, hosts live events, and offers a training certification and other products.
To learn more about resistance bands, visit: http://resistancebandtraining.com/.
####