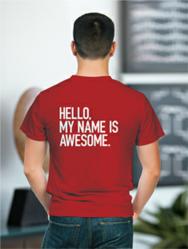 Employee Appreciation Day is an important reminder for managers and companies of the value of saying thanks.
Grand Rapids, MI (PRWEB) February 13, 2013
Employee Appreciation Day is coming up March 1, 2013, and Baudville, the leading provider in day-to-day recognition and award solutions for education, healthcare, and business, wants to help managers recognize their employees. For an easy and affordable celebration, Baudville recommends giving custom t-shirts to employees.
Employee Appreciation Day is observed annually on the first Friday in March, and its purpose is to recognize employee contributions. "Employee Appreciation Day is an important reminder for managers and companies of the value of saying thanks," said Kristy Sherlund, Baudville VP of Product and Merchandising.
The recognition holiday is often marked with an employee gift or a handwritten note for each employee. This year, Baudville recommends managers express their appreciation with a custom t-shirt gift.
In Baudville's new Team ShirtsTM collection, customers can choose from more than 300 pre-made designs and incorporate their logo to create a custom t-shirt for their Employee Appreciation Day celebration. The t-shirts are available in more than 40 colors and ship within five business days.
Baudville launched the Team Shirts offering in January, and the shirts have been well received by customers. The smart sayings t-shirts, which include sentiments such as, "My Boss Thinks I'm Kind of a Big Deal", "Appreciated and I Know It", "Appreciation Never Goes Out of Style," and hundreds more, are the most popular designs. In addition to pre-existing t-shirt designs, customers can work with an artist to create a completely custom design for their team or event.
"Our new custom t-shirts are easy to order and fun to give," said Sherlund. "Managers can present t-shirts to their team on Employee Appreciation Day for a lasting reminder of their appreciation."
To make t-shirts a memorable employee gift, Sherlund recommends customers visit Baudville's Recognition Resource Center for additional tips and best practices on gift giving.
To create custom t-shirts for Employee Appreciation Day, shop Baudville's Team Shirts collection at http://www.baudville.com/pc/custom-team-shirts.
About Baudville
Baudville, the place for daily recognition, continues to be the leading innovator in day-to-day recognition solutions. Baudville's day-to-day recognition solutions appeal to today's increasingly diverse workforce with contemporary designs and relevant messaging, motivating and engaging workplaces world-wide. Baudville has been declared one of the best companies to work for in its area and strives to create the ultimate workplace experience for its employees.