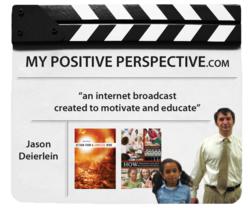 Businesses in the charleston area should be rather excited about these opportunities
Charleston, SC (PRWEB) February 12, 2013
On February 12, 2013, My Positive Perspective aired an episode that announced the re launch of the website, mypositiveperspective.com. Founder and host Jason Deierlein was joined by Michael Waters of Advent Design as the changes involved with the re launch of the website were discussed. In the episode, Waters said, "There will be some designated space for advertisements and the viewer will have a much easier time finding whatever it is that they are searching for."
During the episode, Waters was asked about his experience in doing this. Waters replied to Deierlein saying, "I have been working with several nonprofits and businesses in the Charleston area. I love the challenge of taking on a new client. Over the past ten years of doing this, I have been able to build my contacts, so that they can all cross promote one another." "This is important to My Positive Perspective because it is another source of quality content and quality guests that can come on my radio and/or my talk show," Deierlein adds.
Cross promotion is something that My Positive Perspective believes in and we are trying to not only say this, but show it as well with our top 13 businesses of 2013. Deierlein said, "Businesses in the Charleston area should be rather excited about these opportunities because it gives the companies nominated an opportunity to talk about how the enhance positivity in the Charleston community." This level of mention these companies will be receiving from My Positive Perspective is something that will hopefully increase over time.
My Positive Perspective is an internet talk show created for the purposes of overcoming adversity. We educate and inspire in many different ways and talk about different types of obstacles, but the ultimate goal of this business is to spread positively and strengthen wherever there is a weakness or tragedy to overcome. I myself survived a car accident, coma, and painful rehabilitation. I consider myself lucky to be here and providing the public with this free service. This company is kind of my gift to myself for achieving. The one thing you never lose after surviving a tragedy is desire to help.