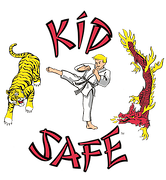 Classes are designed to enhance the students' self-esteem, self-discipline, and knowledge of personal safety
Nutley, New Jersey (PRWEB) February 22, 2013
Kidsafe Youth Programs, Inc. has been bringing low-cost self-defense and safety awareness programs to children ages five to 15 for the past 20 years. In celebration of its 20th anniversary, Kidsafe is holding a major fundraising drive to extend free enrollment to disadvantaged children in the areas that host the sessions. The scholarships are available to low-income students through the organization's non-profit Empower Youth! organization.
Through Empower Youth!, the Kidsafe teachers volunteer their time to provide free self-defense and safety programs to students in dozens of municipalities throughout northern and central New Jersey, Fairfield County in Connecticut, Rockland and Dutchess counties in New York, and in eastern Pennsylvania. Kidsafe classes are offered as an after-school program at various locations through local recreation departments, and at YMCAs and Boys & Girls Clubs.
Kidsafe is unique among self-defense programs in that it offers a low-cost, pay-as-you-go model in partnership with community organizations. Certified black belt instructors teach the classes which are designed to enhance the students' self-esteem, self-discipline, and knowledge of personal safety.
In addition to karate, Kidsafe offers a variety of safety programs including bullying, stranger danger, conflict resolution, and personal health. Classes are held in sessions during the school year ranging from 8 to 12 weeks; discounts are available to families that pay in full in advance.
"We keep our fees low at just $8 per session, with no long-term contracts or commitments," explained Brian Gourlay, founder of Kidsafe, based in Nutley, N.J. "However, we saw that cost was still a barrier for many children in low-income neighborhoods. We started Empower Youth! to bring our classes to these kids for free, to ensure that all students get an equal shot at personal empowerment." Empower Youth! is a 501c3 organization; all donations made to it are tax deductible.
Gourlay stressed the importance of keeping kids off the streets and providing them with constructive after-school activities. He said that many parents have thanked him and his team for allowing their sons and daughters to participate and engage in something productive.
Empower Youth!'s goal is to be able to offer its unique program to low-income children in the various Kidsafe locations. Donations will help cover operating costs and as funds build, Empower Youth! hopes to extend the drive to purchasing uniforms and equipment that students cannot afford to buy. Families interested in applying should call the office at (800) 850-0800.
Anyone wishing to donate to Kidsafe's 20th anniversary fundraiser to support disadvantaged youth may do so by cash or check through their instructor at their class location or by mail to Kidsafe Youth Programs, Inc., 244 Chestnut Street, Nutley, N.J. 07110. For information about self-defense and safety awareness programs offered by Kidsafe, go to http://www.kidsafeyouthprograms.com or call (800) 850-0800.
###