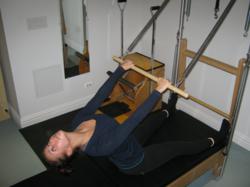 Points of stability aren't just the obvious shoulder blades and sits bones. Finding stability of the whole pelvic girdle and entire shoulder girdle is quite a different thing.
New York, NY (PRWEB) February 12, 2013
Gail Giovanniello, Master Pilates Teacher on the Upper East Side of New York City and the owner of Mind Your Body Fitness, presents Pilates Cadillac Teacher Training during the week of February 18th: Mon-Wed-Fri from 4-8 PM and Sat the 23rd from 11-3.
The apparatus known as the Pilates Cadillac - also called a Trapeze Table - has almost infinite possibilities for variations of movements. But without a grounded knowledge into the stability of both the pelvic and shoulder girdles, loose bodies will risk injury, tight bodies will develop bulk and for every body - the spine that needs the pelvis and shoulders and ribs as three-dimensional support - will work in disconnected segments of neck and lower back.
Pilates expert for movement, posture and sports Gail Giovanniello with over twenty years of on-going training, beyond eighteen years of owning and managing a studio, has mastered stabilization in many forms. She teaches the sinking of femurs into hip sockets and deepening of humeral bones into shoulder joints that grant the stability that is lost upon most teachers in the business. Keeping two studios profitable takes a knack for both good teaching and training - and Gail passes on consistently to her staff with her ongoing in-house offerings - and now with this Cadillac teacher training for new instructors desiring eventual full Pilates certification.
It is common in many forms of fitness nowadays to extoll the benefits of a balance between stretching and strengthening, but most often instructors or trainers focus almost exclusively on using muscle. Yes, a balance between stretching and strengthening is important, but stabilization is a function often overlooked because it is challenging to teach.
Stabilization comes from knowing how to direct skeletal points, which is very different from exerting muscle forces.
Beyond the Foundation Pilates Principles of Breath, Concentration, Center, Control, Precision, and Flow, Gail teaches underlying skeletal relationships and principles of stability. She uses the "bony landmarks" such as sits bones and shoulder blades to "ground down" pairs of points in order to "lengthen up" the spine in between these pairs of points. But as well, she teaches how the stability of obvious skeletal points leads to also grounding the entire shoulder and pelvis so that other bones can be incorporated. The sit bones stabilize the pelvic bones and hip joints. Gail says: "Sink the femurs into the hip joint so that the legs can move inside the hip joint holes, but then the pelvis moves atop the femural head as well." Now this kind of specificity may be lost upon the lay-person desiring tone, but is crucial for the person wanting of the top-notch training to teach Pilates in NYC.
The upper body, because the bones are smaller, often has even more need for specificity. "Most people have weakness in the forearms," Gail states, possibly the reason for maladies such as carpal tunnel syndrome, yet because the forearm, upper arm and shoulder are all related, wrist weakness can also create conditions for frozen shoulder and rotator cuff injuries. "Learning to deepen the rotations and find a hand grip with all five fingers will strengthen the flexors and extensors in the forearm which is very important." You can see more clearly what she's talking about in the video: Gail Giovanniello Pilates UES Cadillac Teacher Training 2013.
In this teacher training, as well as in other regular offerings both for instructors and clients, Gail's commitment to ongoing Pilates continuing education can always be viewed on the Continuing Education tab on the Mind Your Body website which lists all upcoming In-House Trainings available.
Also see the complete Mind Your Body Fitness Group Pilates Class Schedule:
Over 40 Classes to Choose From on Reformer, Tower, Chair and Mat
Each Class with Five or Fewer Students and Available Seven Days a Week
Complimentary press previews with Gail Giovanniello can also be scheduled for alternate times.
Press contact: Tim Driscoll 212-647-8878