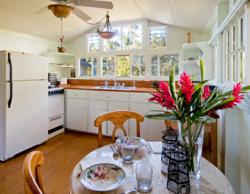 There are a variety of things to do in Kauai, visitors will have no problem staying busy.
Kapaa, Kauai, Hawaii. (PRWEB) February 12, 2013
For those looking for a serene getaway to the beautiful island of Kauai, one of the vacation cottages from the Fern Grotto Inn may be a good choice.
Staying at these cottages affords visitors with a more relaxing and tranquil experience than if they were staying in some large and hectic hotel. With a cottage travelers will receive a unique Hawaiian experience of serenity and beauty. During a stay at one of the vacation cottages, wait staff or tourism salespeople will not pester visitors. Instead, travelers can be free to relax in their room all day, or go out and explore the beauty of Kauai.
If the latter option is the one that people choose, the new list of things to do in Kauai, will be extremely helpful. Travelers are encouraged to visit Waimea Canyon and Koke'e State Park, located in the western part of Kauai. Deemed by Mark Twain as the "Grand Canyon of the Pacific," Waimea Canyon is a breathtaking piece of scenery.
For those who are more adventurous, a helicopter tour of Kauai may sound like a fun idea. Most helicopter tours last about an hour and include seeing the Nawiliwilli Harbor, the Menehune Fish Pond, Jurassic Park Falls, the Hanapepe Valley, Waimea Canyon, Na'Pali Coast, Hanalei Valley, Mount Waialeale, and Wailua Falls.
For visitors who would like to ride a historic train, hike through a rainforest and orchard, taste Kauai's only island-made rum, shop, dine at one of Kauai's top restaurants and enjoy one of the island's best luaus, they should check out Kilohana Plantation. It is located just one mile out of the town of Lihue.
There are a variety of great things to do in Kauai, visitors will have no problem staying busy. Pair that with a relaxing stay in a wonderful cottage and travelers have just created a dream vacation.
The Fern Grotto Inn has a variety of different cottages, starting at just $125 per night. Whether going on a family vacation or a romantic honeymoon,We have something for every type of visitor.