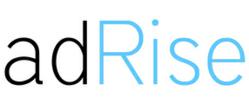 "An adRise and FreeWheel partnership will result in new benefits for our shared partners in the converged TV technology space. It will increase the distribution and monetization services needed to maximize revenue..." adRise CEO, Farhad Massoudi
SAN FRANCISCO, California (PRWEB) February 13, 2013
adRise, the largest content distribution and ad monetization platform for Connected TV devices, and FreeWheel, the video technology company serving enterprise-class entertainment companies, today announced a partnership to monetize video content syndicated through adRise's connected TV applications.
adRise provides free app development and technical services on more than 15 connected TV environments, including on Xbox, PS3, iPad, Roku, and Smart TV platforms. The partnership provides more options for FreeWheel's deep roster of entertainment customers relying on the company's ad management technology, Monetization Rights Management® (MRM), to distribute their content via app environments.
"Consumers have consistently shown us that television is still television, no matter the device on which the content appears," said Brent Horowitz, vice president of corporate strategy & business development at FreeWheel. "Our mission has always been to build the infrastructure needed to enable the largest entertainment companies to make the most money from their content, and this partnership with adRise is another step towards that end."
The adRise-FreeWheel partnership resolves two issues that have impeded the growth of the Connected TV ecosystem. Advertisers now have a simple way to extend their ad campaigns across devices, previously encountering issues with running campaigns across fragmented Connected TV environments. For publishers, this partnership provides a cost-effective, easy way to create a separate app for each Connected TV device, foregoing separate and cumbersome development cycles, as well as achieving viewership scale that advertisers demand.
"We share many of the same content partners so a partnership with FreeWheel will result in new benefits for our shared partners in the converged TV technology space. It will increase the distribution and monetization services needed to maximize revenue across all video-playing devices for adRise, FreeWheel, content distributors, and advertisers," said adRise CEO, Farhad Massoudi.
# # #
About adRise
adRise is a free connected TV distribution platform that enables premium content owners to instantly build, distribute, and monetize video apps for all major connected TV platforms. Their ad SDKs powers ad delivery, targeting, and real-time analytics and are the standard that most of the advertising world uses to deliver interactive brand advertising to connected TVs. adRise was founded in 2010 and is located in San Francisco.
adRise Media Contact
media(at)adrise(dot)com
(415) 504-3505
About FreeWheel
FreeWheel manages the economics of content for the enterprise-class world of entertainment, offering technical infrastructure for revenue rights management and business operations, wrapped in advisory services. Founded and led by a team of executives from the world's leading technology companies, FreeWheel's solutions have already armed companies like ABC, AOL, DIRECTV, ESPN, NBC Universal, Sky, Turner, and Viacom with the technology and services they need to profitably scale their professional content across devices and revenue models. For more information, visit http://www.freewheel.tv. Follow the company @FreeWheel.
FreeWheel Media Contact
Gerasimos Manolatos
GManolatos(at)FreeWheel(dot)tv
(646) 837-8695