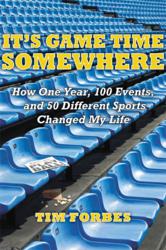 [Forbes] traveled across North America to attend 100 games involving 50 different sports, hoping to rekindle his passion. In "It's Game Time Somewhere," he does, with incisiveness and irreverence.
—Shelf Awareness
Los Angeles, CA (PRWEB) February 14, 2013
The imagination of a young sports fan knows no boundaries. In his mind he hits that walk-off to win the World Series. And the crowd goes wild! Tim Forbes, at 40, took a chance on this feeling. Author Tim Forbes has made appearances for his much-anticipated and highly-acclaimed memoir, "It's Game Time Somewhere: How One Year, 100 Events and 50 Different Sports Changed My Life," on NPR-Milwaukee and Sirius XM's PGA Tour Radio. Shelf Awareness said, "In "Its Game Time Somewhere," he does [rekindle his passion], with incisiveness and irreverence."
More "It's Game Time Somewhere" fans include:
"There's a lot of books that come across my desk ... ["It's Game Time Somewhere"], however, caught me right out of the gate. Extremely well done. It's an amazing journey, and a lot of fun."
— John Maginnes, former PGA Tour Pro and host of PGA Tour Radio
"Ithaca hoops alum and corporate consultant embarks on an entertaining and insightful search for the love of the game — any game."
— NCAA Champion Magazine
About the Book
In "It's Game Time Somewhere," Tim Forbes decided to take a chance on his dream by walking away a from a perk-filled corporate job at the age of 40 to start a new career as perhaps the PGA Tour's oldest-ever intern.
Tim was living the sports lover's dream until he was stunned with a simple question: Had the native New Englander fallen out of love with sports? After 10 years of being deeply entrenched in the day-to-day business of sports, Tim realized he wasn't happy — he had become unsettlingly disconnected from his lifelong passion for sports. Something had to be done.
With only a notebook and a camera, Tim traveled to every corner of America and into Canada; to 100 different games covering 50 different sports. Sports he knew intimately, sports whose rules were a mystery; games he attended with 80,000 others, and games at which his arrival doubled the total attendance. Events where readers meet Ashton Eaton long before he won Olympic decathlon gold, Orioles rookie sensation Manny Machado while he was in Single-A ball, and Ryan Lochte when he was still just "that other swimmer."
"It's Game Time Somewhere" is a ball-chasing, sports-loving, and often irreverent roots journey. Each game is part of Tim's daring decision and inspirational journey to reach into the heart of America, into the games that played out every day far beyond any television cameras, luxury boxes, or over-priced souvenir jersey stands. He risked a lifetime of stability to be there with them — but does Tim end up hitting the walk-off he dreamed about as a kid?
About the Author
Tim Forbes grew up in Ellington, CT, and went on to earn a bachelor's degree from Ithaca College, where he played Division III basketball in front of literally tens of people. He received an MBA from the University of Massachusetts, Amherst, and an Associate's Degree at the Professional Golfers Career College in Temecula, CA. Prior to his walkabout, Forbes worked for three major professional golf tours: the Symetra Futures Tour, the LPGA Tour, and the PGA Tour. He has also been employed as general manager for golf clubs in Nashville, TN and Orlando, FL. In 2009 he founded Outside the Mode, a sports marketing and production company based in his adopted home of Los Angeles. His adventures were originally recorded in his popular blog, found at http://www.ItsGameTimeSomewhere.com.